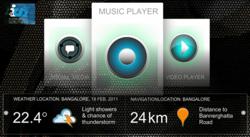 GWVectra, the new avatar of Android, promises a whole new experience to the passengers.
(PRWEB) July 08, 2011
Interchain, a product company focused towards In-Vehicle hardware and software products is proud to launch a customized Android platform for In-Dash and Rear Seat Entertainment applications. Interchain has spent over 2 years in the development of the customized hardware and software platform christened "GWVectra" which is now ready for OEM adoption.The GWVectra concept, was showcased earlier in CeBit 2010 where it received tremendous response. After that the company had spent almost 12 months in productizing the concept for mass adoption.
Android is one of the most scalable and developer friendly platform compared to the earlier options that were available for Automotive System Integrators. But since Android was specifically designed for mobile phones, its user interface and the application are targeted towards mobile audience operating out of small screen and touch interface. When it comes to passengers and drivers who are the users inside cars, a complete shift in paradigm is required in user interactions, applications, controls, and the user interface. GWVectra specifically addresses this problem by coming out with a customized set of user interface and a completely new set of applications that the user inside the car will feel comfortable using. This has been achieved by a new set of core features and a fresh customized set of applications.
Key Technologies
Interchain addresses the battle between Smart phones and Smart infotainment by providing all the capabilities on the software stack to share connectivity, content, preferences and data with other smart phones, laptops and PMP devices like Apple iPod. GWVectra design relies on the goal that the user should be able to utilize all the features of the system with a combination of his natural communication including gestures, touch, speech, etc just not limiting to a touch screen interface. In case of In-Dash applications, the platform focuses on ensuring that the driver's attention is preserved in driving and not in viewing and operating the screen.
To achieve this, Interchain has leveraged on its home grown technologies to heavily simplifying the complexity of Android platform, which is usually targeted towards technical audience.
a) vConnect, Connectivity sharing from and to phones
b) uSpeak, Optimized Voice Recognition Stack
c) vSee, Video based Gesture Recognition Input
d) iKnowYou, Passenger identification and communication system
e) vPredict, Fuzzy logic based user preferences prediction system
Interchain has created several Patent pending features around the GWVectra platform. The user interface is focused only towards the minimalistic features that a user might use in the car. Leveraging on all these technologies, GWVectra gives the users a completely fresh interface inside the car for in vehicle infotainment.
Customized Application
Apart from customizing the standard operating system, the company has built a software suite which is closely integrated with each other:
a) GWMusic, Music optimized for cars leveraging on DSP hardware support
b) GWVideo, Extended video format support with optimized gallery and navigation features
c) GWSync, for moving audio, video and data files from Cloud and from other physical sources.
d) GWStream, Social Stream converging all social services
e) GWTrackut, Location Based Services powered by Trackut
f) GWSensors, for communicating with the car ECU and other electronics in the car.
g) GWLive, a localized television and radio streaming solution.
h) GWNavigate, offline and online turn by turn direction application.
The software stack is aimed to help existing system developers to go to market with Android based Invehicle platform in shortest time to market.
Works on Devices of your choice
The GWVectra software stack works on multiple hardware platforms from ARM9, ARM11, ARM8-Cortex to dual core derivatives. The software stack is designed to be platform agnostic thereby letting the OEMs to utilize GWVectra stack on their existing hardware platforms. So GWVectra is suitable for
a) Existing In Dash Consoles
b) Android Tablets
c) Rear Seat Entertainment Consoles
d) GWVectra IVI Hardware
Interchain is open to licensing the entire software stack or different parts of the software stack with OEMS and System Integrators in the automotive space.
Customized Hardware Development
Interchain has developed a Automotive grade hardware platform which will help OEMs build customized In-Dash and Rear Entertainment consoles for their cars. Some of the highlights of the customized hardware include:
a) Gesture sense sensor on Steering mounted control
b) IPod connectivity (USB & A2DP)
c) High end audio acoustics running on 22 V rail voltage
d) Support for 2/4 discrete channel and subwoofer support direct from the head unit
e) Low light camera support
f) Steering mounted biometric sensor
g) 7" High Brightness LCD with Capacitive Touch
h) WiFi, FM, Bluetooth, GPS support
i) CAN, OBD Support
With the competitive advantage of in-house design and development capabilities, Interchain is targeting the GWVectra hardware platform at entry level as well as medium luxury cars with price points starting from $150 which is the arena of the regular MP3/USB player.
Open to partners
Interchain is currently having early previews for Automotive OEMs and supplier community with the goal of custom branding and launching the GWVectra powered IVIs on cars across the globe. Should you be in the Automotive OEM world or Automotive supplier community, please feel free to get in touch with the Interchain team at gwvectra@interchainsol.com for early access to demos and further information about the product.d a fresh customized set of applications.
###