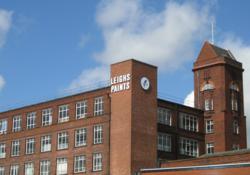 Chris Connor, Chairman and CEO of The Sherwin-Williams Company, said, "We are very pleased to bring Leighs Paints, and their employees into the Sherwin-Williams family. This acquisition reaffirms our strategic commitment to growing globally."
Bolton, UK (PRWEB UK) 6 July 2011
The Sherwin-Williams Company announced it has closed a definitive agreement to acquire Leighs Paints, a Protective & Marine and Fire Protection coatings business.
Headquartered in Bolton, United Kingdom, Leighs Paints is one of the top industrial Fire Protection coatings companies in the world, with a growing global platform, driven by technology innovation and quality products.
Leighs Paints has a comprehensive line of Passive Fire Protection (PFP) intumescent products for both the hydrocarbon and cellulosic markets.
Leighs Paints leading FIRETEX brand has been used on over 400 projects around the world protecting off shore platforms, refineries, chemical plants, airports, and hospitals.
Leighs Paints has 260 employees and operates one manufacturing facility. Sales and technical support centers are located in the UK, Germany, Canada, India, and UAE. Products are currently distributed across 47 countries worldwide.
Sales and purchase price were not disclosed.
Chris Connor, Chairman and CEO of The Sherwin-Williams Company, said, "We are very pleased to bring Leighs Paints, a well-respected company, and their employees into the Sherwin-Williams family. Combined, our two companies have nearly three centuries of experience in coatings innovation. This is another positive step in our strategy of steady growth and expansion through quality products and people who provide excellent customer service. This acquisition reaffirms our strategic commitment to growing globally."
Brian Leigh-Bramwell, Chairman of Leighs Paints, said, "This outstanding company has been a part of my family for the past 151 years. Sherwin-Williams shares many similarities with Leighs Paints both in terms of history, culture, and customer focus. I am confident this decision will be of great benefit to both companies and our customers well into the future."
George Heath, President of Sherwin-Williams Global Finishes Group, stated, "The acquisition of Leighs Paints is another important step in our efforts to strengthen our growing global platform. In joining our Protective & Marine Coatings Division, Leighs Paints FIRETEX brand provides a new opportunity for Sherwin-Williams to better serve our customers around the world with outstanding technology, people, and assets."
Leighs Paints – Bolton, United Kingdom
Leighs Paints is the UKs leading independent manufacturer of high performance coatings employing 260 people worldwide. Established in 1860, Leighs Paints operates on a global basis across 47 countries. With on-site R&D and engineering teams, Leighs Paints offers outstanding technical expertise and customer support. For more information, visit http://www.leighspaints.com
The Sherwin-Williams Company
Founded in 1866, The Sherwin-Williams Company is a global leader in the manufacture, development, distribution, and sale of coatings and related products to professional, industrial, commercial, and retail customers. With 32,000 associates and $7.78 billion in sales, Sherwin-Williams is the #1 paint and coatings company in the U.S. and #3 in the world.
The company manufactures products under well-known brands such as Sherwin-Williams®, Dutch Boy®, Krylon®, Minwax®, Thompson's® Water Seal®, Ronseal™, Becker Acroma™, Sayerlack®, Euronavy®, Altax™ and many more.
With global headquarters in Cleveland, Ohio, Sherwin-Williams® branded products are sold exclusively through a chain of 3,390 company-operated stores and facilities in the U.S., while the company's other brands are sold through leading mass merchandisers, home centers, independent paint dealers, hardware stores, automotive retailers, and industrial distributors.
The Sherwin-Williams Global Finishes Group delivers a wide range of products to the automotive refinishes, product finishes, and protective and marine markets in 109 countries around the world.
For more information, visit http://www.sherwin.com
Contacts
Lisa Usher
Communications Co-ordinator
Leighs Paints
UK: 44 (0) 1204 521771
Mobile: 44 (0) 7975552799
lisa.usher(at)leighspaints(dot)com
http://www.leighspaints.com
Mike Conway
Director, Corporate Communications and Investor Relations
Sherwin-Williams
USA Direct: 216.515.4393
Pager: 216.422.3751
mike.conway(at)sherwin(dot)com
###