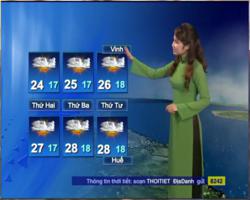 Using solutions from Weather Central... VTV weather has evolved from a simple news segment into a resource with its own respected standing that our audience values and relies upon.
Madison, WI (PRWEB) July 06, 2011
Vietnam Television (VTV) has shed itself of years of manually produced, information-starved weather reporting by implementing a complete weather data and production solution from Weather Central—provider of the most-viewed broadcast weather system in the world. VTV has used the 3D:LIVE Fusion™ system to its fullest to produce one of the world's most comprehensive broadcast TV weather services in the world and is now extending its reach via SMS and mobile alerts, and distribution to mobile and web platforms.
"Vietnam has extraordinary local variation in weather that has an enormous impact on people's lives and the economy," said Tran Nam Trung, VTV Broadcom Director. "Using solutions from Weather Central, VTV has transformed its weather reporting into a dynamic presentation packed with accurate information. In the span of just a few short months, VTV weather has evolved from a simple news segment into a resource with its own respected standing that our audience values and relies upon."
Despite its status as one of the world's fastest developing nations, Vietnamese people had to make do with weather reporting produced in decades old facilities. The VTV team led by Dang Anh Minh and Pham Thi Thanh Thu set out in 2010 to not only improve its capabilities, but to create a weather service that would compete against and exceed what was being offered anywhere in the world.
Features of the system used at VTV include:
-3D:LIVE Fusion – Weather Central's complete weather system that combines patented technologies and exclusive storytelling tools for creating dynamic presentations for any viewing screen.
-ESP:LIVE™ – Weather Central's comprehensive severe weather package combines enhanced radar and tracking capabilities, high resolution forecast models and sophisticated graphics to enhance presentations.
-Super MicroCast™ data technology that gives high resolution point forecasts with predictive feedback minutes, hours, or days ahead for any latitude/longitude. This enables VTV to give critical warnings to localities in the event of weather-related emergency, such as advising people to seek higher ground in the event of floods.
"VTV has achieved something extraordinary," said Weather Central Chip Mobley, VP International Business. "Weather Central designs its system to not only provide extremely accurate information, but to also provide a huge palette of presentation tools. VTV is serving its audience very well, elevating weather storytelling to an impressive level that should have broadcasters and other media companies around the world taking notice."
For a complete look at Weather Central's solutions for on air, online and mobile weather presentation, visit http://www.wxc.com.
About VTV
Vietnam Television is the national broadcaster of the Socialist Republic of Vietnam. As the leading news and mass communication organization VTV plays an active role in the nation's ideological and cultural forefront by disseminating information to the general public across the country & overseas Vietnamese, providing scientific & educational programming and entertainment to audience groups. More information is available at http://www.vtv.vn.
About Weather Central, LP Weather Central, LP, founded in 1974 by broadcasters and meteorologists based in Madison, Wisconsin, is the leading provider of professional on‐air, online, print, mobile and enterprise weather solutions and forecasting in North America and to major customers worldwide. Utilizing the Company's dynamic weather graphics, precise forecast models and data, and patented technology, more than 1000 partners and hundreds of millions of consumers worldwide benefit from Weather Central's attention to weather presentation, detail and insight.
© 2011 Weather Central, LP, Madison, Wis. All rights reserved. Product specifications and availability are subject to change without notice. Weather Central LP, :LIVE, GENESIS:LIVE, 3D:LIVE, ESP:LIVE, Weather Central MagicTRAK, LiveLine GENESIS, A.D.O.N.I.S. MicroCast, A.D.O.N.I.S. FutureCast, StormSentinel DV, WxWarn2, ScreenWRITER, SportsWRITER, SimulCAST, X‐Vision, Storm Vitals, TelePath, RainVision, SnowVision, FunnelPATH, CellPATH, HailZONE, GustZONE, MessoPATH, Always‐On Training, Instant Mapping and WxPoint are either registered trademarks or trademarks of Weather Central LP.
All other trademarks contained herein are the property of their respective owners.
# # #