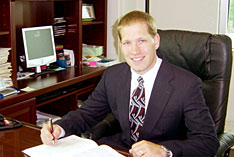 We understand the needs and questions our clients present and hope they will use our newly launched website as a resource to answer all of their questions.
Charlotte, NC (PRWEB) July 08, 2011
The Charlotte, NC law firm of Jack G. Lezman, PA recently launched their website, providing a valuable online legal resource to current and potential clients. The site offers helpful information to remove some of the fear and uncertainty from the legal process, including basic information on Charlotte, NC bankruptcy laws.
Website visitors learn how the experienced bankruptcy attorneys at the law office of Jack G. Lezman, PA can assist them with their legal issue. The firm has developed a reputation for maintaining high ethical standards while aggressively representing clients throughout Charlotte, NC in bankruptcy legal matters.
For the last eight years, Jack Lezman has been providing personal, specialized bankruptcy representation to clients who have found themselves in desperate financial circumstances. It is Jack Lezman's firm belief that no one should go through the bankruptcy process without the sound advice of an experienced, qualified lawyer. New legislation that went into effect in the fall of 2005 is trying to scare people away from bankruptcy court, but some of the alternatives can leave people in even worse financial condition. Whether you are a candidate for Chapter 7's straight bankruptcy or Chapter 13's debt consolidation bankruptcy, Jack Lezman will ensure that you take all the right steps to get out of debt.
Jack Lezman provides his clients more personalized attention. With some firms, you just meet with a paralegal and never see the attorney except when you go to court. He will meet with you initially and explain the whole process to you in detail so that you know exactly what you're getting into and how it all works; leaving no questions unanswered. When everything is ready to go to court, he meets with you again to review the case beforehand.
Founded in 1995, Jack G. Lezman has more than 15 years of experience. For more information about the firm, please go to http://www.jlezman.com or call 704-323-8201.
###