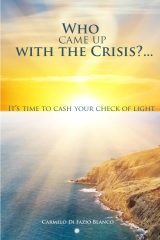 It's time to make the determine to be a winner, or settle for being the king of the losers.
(PRWEB UK) 7 July 2011
Now available in the Anglo market, (published in Spain in February 2010), "Who Came Up with the Crisis?... It's Time to Cash your Check of Light" by Carmelo Di Fazio, a publicist with over 22 years of experience in television in Latin America. The book is based on experiences, gained in 2009, which led him through depression, frustration and utter defeat due to various adverse factors he lived through, after a successful career over 25 years of great wins in all aspects of his life. The author, through this book, masterfully exposes how his success turned into darkness, thanks to the demons of ego, greed and vanity, which lead the best of our capabilities to resist when they try to convince us that we are defeated forever.
At this moment there are two opinions, as summarized by the author, "It's time to make the determination to be a winner, or settle for being the king of the losers." And at the end of the road we find that all without exception have the weapons or tools of glory. It's all the speed we spend to collect the "check of light" that encompasses all the blessings we are given from the same day we were born. These capabilities, often staying asleep, as the circle of comfort or complacency might prevent us from seeing the stone path which leads to a field full of lush trees full of light.
For many readers in Spain and Latin America, this book became a manual of personal achievement, a perfect antidote to any kind of adversity if you really apply every piece of advice expressed therein. In short, the crisis only has a place in the hearts of the weak, the lack of light beings. It is a perfect material for the times we live in today. Written in a friendly, easy to read style, and with an incredible story that grabs the reader. It is a self-help book different from others since it is a spiritual guide, and is a story of everyday life that can enhance your weapons in adversity.
To purchase the book visit the following web links:
http://www.amazon.com/Who-came-crisis-check-light/dp/1463617585/ref=sr_1_1?ie=UTF8&s=books&qid=1309836649&sr=8-1
or
https://www.createspace.com/3635069
"I hope you enjoy it and it contributes to the personal improvement of our readers. Always remember that crises are the best laboratory for success," said Di Fazio.
Carmelodifazio40(at)hotmail(dot)com
# # #