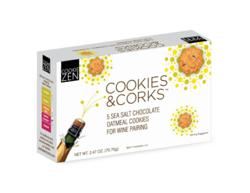 "Cookies & Corks are a fun, casual, and unexpected wine pairing experience without the intimidation factor," says Laura Englander, VP Sales & Marketing.
Falls Church, VA (PRWEB) July 08, 2011
Cookies & Corks, a cookie company that creates sweet and savory bite-sized wine pairing cookies, is now offering single flavor packs. Debuting at the 57th Summer Fancy Food Show in Washington DC, the cookie flavors available in the single packs include Apricot Sage, Ginger Molasses, Zesty Lemon, Sea Salt Chocolate Oatmeal, Espresso Chocolate Peanut Butter and White Cheddar Rosemary. Cookies & Corks have a six-month shelf-life yet contain no artificial preservatives, flavors or trans fats. Each box will include five of one type of cookie and a wine pairing guide that expertly pairs each cookie with red, white and sparkling wine. Cookies & Corks can be found at booth #2833 in the Virginia section at the Summer Fancy Food Show.
"Cookies & Corks are a fun, casual, and unexpected wine pairing experience without the intimidation factor. With the single flavor packs, cookie and wine pairing is even easier because customers can try pairing cookies with red, white and sparkling wine with just one flavor," says Laura Englander, VP Sales & Marketing. "Plus, the single flavor packs are a fantastic addition to wine-themed gift baskets and the cookies are a great 'grab & go' item for merchandising in retail stores and wineries," she added.
In addition to single packs and full-size packs, the company offers a bulk party pack allowing customers to order cookies in large quantities to include cookie and wine tastings as part of event festivities at bridal showers, weddings, or corporate events. The pack includes three packs of 30 cookies, a wine and cookie pairing guide, and self-guided tabletop cards to help guests navigate their cookie and wine experience.
Pairing wine and cookies is a unique, yet simple exercise in food and wine pairing. To further enjoy a wine, the company welcomes customers to download Expanded Pairing Guide on their Web site that pairs each cookie with several different wine types, which makes for a fun event. Cookies & Corks' cookies are a decadent and thoughtful gift for anyone with a taste for gourmet treats, wine, or both! The company also suggests using the cookies as an impressive tasting experience at a dinner party, shower, book club or simply a Cookies & Corks tasting party with friends.
About the Founders
Leah Kuo and Laura Englander are the creative minds who blended their creative culinary talents and savvy marketing sense to create Cookies & Corks. The duo also tapped into Le Cordon Bleu-trained wine expert and columnist Amy Reiley, one of the foremost educated women in food and wine, as their official Cookie & Wine Pairing Advisor to help educate customers through the company's wine pairing guide.
Cookies & Corks was founded in 2010. The suggested retail price for a full-size box is $7.95 and $3.00 for single flavor packs. Cookies are available in retail locations across the country as well as online on Amazon.com. For more information, or to become a retailer, please visit http://www.cookiesandcorks.com or contact Laura Englander at lenglander(at)cookiezen(dot)com or call 703-389-9274.
###