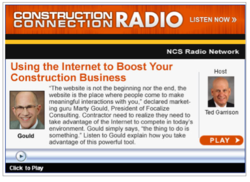 The goal of this new series is to provide breakthrough strategies for the construction industry.
Austin, TX (PRWEB) July 13, 2011
Construction Connection, the construction industry resource and networking community, recently partnered with New Construction Strategies Radio Network to launch Construction Connection Radio. The new Internet series will provide useful information, tips, and strategies for construction job seekers, employers, and construction industry professionals. Segments can be heard online by visiting: http://www.constructionconnection.com/blog/cc-radio/
Hosted by consultant, author, and speaker, Ted Garrison, each brief segment of Construction Connection Radio will keep the audience up-to-date on the latest developments in the construction industry. The series will also feature nationally recognized guest speakers to join the construction discussions.
"The goal of this new series is to provide breakthrough strategies for the construction industry. We will be focusing on critical issues in leadership, strategic thinking, project management, and marketing. I'm proud to announce our partnership with NCS and look forward to sharing this series," said Kent Leighton, Construction Connection co-founder.
Recent segments on the Construction Connection Radio series feature marketing and media experts, authors, and business leaders. They cover a range of topics from how contractors can use the Internet to boost their construction business to tips for employers on successful staffing.
Construction Connection Radio adds to the site's extensive construction industry resource area, which contains news, articles on accounting and finance, career tips, and more. Construction Connection's active social media and blog tools harbor a rapidly growing network of experts and offer insight on construction communities across the US and the world.
About Construction Connection
ConstructionConnection.com was founded in 2009 out of a need for a more effective and streamlined way for construction industry professionals to get matched with the right industry jobs. The business has evolved into a place for the construction industry to find individuals, subcontractors, and relevant information, make connections and build relationships. Individuals can find jobs and companies can post jobs for free. Construction Connection offers Safety Toolbox talks, career tips, construction trends, newsletters and a weekly blog.
About New Construction Strategies 3.0
New Construction Strategies 3.0 is about taking a 360 degree look around the industry and asking the brightest, most experienced thought leaders we can find two simple questions: What's coming next? What do we need to do to be prepared for it? On NCSradio we interview leaders from every sector of the construction industry and related business and academic communities. We ask the tough questions about the future of our industry, relentlessly pursuing smart, accurate, insightful answers.
About Ted Garrison
Ted Garrison, CSP, has 25 years management experience constructing 10 million square feet of commercial buildings. Since 1998 Ted has served the construction industry as a consultant, author, and speaker on construction management topics. In addition to his Civil Engineering degree and BA from Rutgers University, he has practical experience working in framing, trim, and survey crews.
###