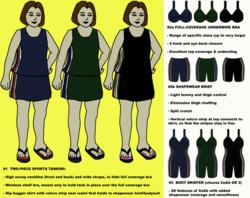 I designed a bathing suit to address the real needs of many women who have chest that wobble and thighs that jiggle.
(PRWEB) July 07, 2011
Cyberswim has teamed up with Miraclesuit to provide this exclusive opportunity. The winning entry will be turned into a production swimsuit, and the winning design will be part of the 2012 Miraclesuit launch, which will be available for purchase exclusively on Cyberswim.com.. The winner of the competition will receive $500 in cash and one of their personally designed suits. Two runners up will received $100 in cash. The contest will continue through July 31, 2011. Winners will be announced on or about August 8, 2011. Specific questions or concerns can be emailed to mailto:facebook(at)cyberswim(dot)com
While this is a design a suit contest, participants are not required to have a degree in fashion to participate. According to Cyberswim "Miraclesuit Designer Contest" on http:// http://www.facebook.com/cyberswim?sk=app_184712868248864.. [Facebook page __title__ Cyberswim's Facebook Page], contest rules are as follows:

You must "Like" the Cyberswim Facebook Page
Go to the Events tab, click on the Become a Miraclesuit® Designer Contest event, and fill out the design form along with a description of your design. You can, optionally, add sketches, drawings or other artwork that detail your vision.
The design with the most votes wins
You can vote as often as you'd like but votes are limited to 1 per day per person
2010 Design Contest winner was Kim Tamalonis. She is an art teacher and very talented artist working in the paper medium. Kim has a love for fashion and an eye for design that appeals to real women of all shapes and sizes. Her winning TanKimmi design is described as tankini with a strong bra and spandex shorts built into a skirted tankini bottom. You can read her story here:
After meeting with Cyberswim President Lisa Stephen and Head Pattern Maker Theresa Mcgrane over a long holiday weekend, Kim and the Cyberswim team took her suit from "an idea to a reality." Kim elaborated on why she chose her idea by saying, "I had designed a bathing suit to address the real needs of many women who have chests that wobble and thighs that jiggle. I was worried that after passing though the company ranks, the function of my design would get whittled down. That wasn't the case. Lisa was receptive to my suggestions and added ideas that will make the design even better." She continued by stating, "Theresa talked about what needed to happen structurally to make this specific suit a success. We studied other suits, as well as bras and shapewear, in order to chart the best course of action. What developed was an exciting plan that didn't compromise the function of my original design, at all, but that was more cost effective and user-friendly than the original version."
Miraclesuit boasts the "Look 10 lbs Lighter in 10 Seconds" promise.
Cyberswim, founded in 1999 on the principal of the "dreaded" swimwear shopping experience, is the largest direct sales retailers of Miraclesuits. Each Cyberswim purchase is backed by their 100 percent satisfaction guarantee, and strives to fulfill its mission to deliver superior service while offering products that give women the ability to feel good about themselves. "We really focus on what women of any size want our clothing to do: draw attention to our best features and downplay those parts that we feel less secure about," explains company President Lisa Stephen. Don't take their word for it, their customers say it best.. They are sure that customers will love their new Miraclesuit product.
For more information about Cyberswim and products, please visit http://www.Cyberswim.com or email us at service(at)cyberswim(dot)com
###