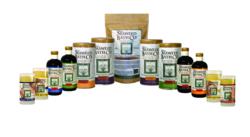 Austin, TX (PRWEB) July 07, 2011
The Seaweed Bath Co. (http://www.seaweedbathco.com), which offers a full line of seaweed-rich products for fighting dry, flaking and scaling skin naturally, was recently honored with the Retailers' Choice Award at the 2011 Natural Product Marketplace Show in Las Vegas, NV.
The Seaweed Bath Co. was chosen from more than 150 natural product exhibitors at the show to win the award, which was based on the highest amount of votes by an esteemed collection of retailers judging the best Product Showcase.
Founded by Adam Grossman, a long-time psoriasis sufferer, The Seaweed Bath Co. products are formulated with nutrient rich seaweed harvested from the frigid waters of the northern Atlantic Ocean. Products from the line also contain soothing natural ingredients, such as Argan, Kukui and Neem Oils, that provide added benefits for dry, irritated skin.
The Seaweed Bath Co. product line consists of the Wildly Natural Seaweed Powder Baths, Body Butters, Body Washes, Body Creams, Shampoos and Ocean Fresh Whole Seaweed Baths.
The Seaweed Bath Co. products are free of dyes, parabens and SLS and are sold at leading health food and natural drug stores nationwide and at http://www.SeaweedBathCo.com.
Please let us know if you would be interested in speaking with Adam Grossman, as he will be able to answer questions about the new, award-winning line and outline the benefits of seaweed's effects on dry and damaged skin.
# # #