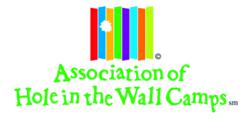 "We are confident John will bring us leadership and skills that will advance our mission and the legacy of Paul Newman," Richard Segal, Chairman of the Board of Directors of the Association of Hole in the Wall Camps
Westport, CT (PRWEB) July 06, 2011
The Association of Hole in the Wall Camps is pleased to announce the appointment of John C. Read as its new President and CEO. Read assumes the role from Ray Empson, who has served in an interim capacity since March 2011.
Read comes to the Association of Hole in the Wall Camps, a growing worldwide network of camps for seriously-ill children founded by Paul Newman, from Outward Bound, where he served as President since 2001 and President and CEO since 2005.
Read will take the helm of an organization on a growth track; Camp initiatives increased from 13 in 2008 to 24 in 2010, while total children served increased by more than 34% during this period.
Read began his career in government service, holding positions at the federal level and at the state level. He served as Chief Economic Advisor to the Governor of Massachusetts and later as an Assistant Secretary in the U.S. Department of Labor. Following his government service, Read spent 13 years with Cummins Engine Company in various roles, culminating as Vice President of the company's mid-range family of engines. He then moved to the Donaldson Company, a global producer of industrial filtration products, as Executive Vice President. Following that assignment, Read founded Heavy Duty Holdings (now Commercial Vehicles Group, Inc.), a global supplier of components for heavy equipment, and acted as its CEO until 2000.
Read graduated from Kent School in 1965 and holds a BA and MBA from Harvard University. He was honored in Newsweek's "The Giving Back Awards" as one of fifteen individuals who make America great. Read is married to Alexandra Read and they have three children and five grandchildren.
"We are extremely fortunate to have someone with John's distinguished background, experience, and record of consistent accomplishment joining our organization. We are confident John will bring us leadership and skills that will advance our mission and the legacy of Paul Newman", said Richard Segal, Chairman of the Board of Directors of the Association of Hole in the Wall Camps.
Association of Hole in the Wall Camps
Founded by Paul Newman, the Association is a growing global network of innovative camps and programs that provide life-changing support for children with serious illnesses and their families. Through 24 initiatives, including 14 Camps and 10 Global Partnerships, in 2010, the organization served more than 47,800 people. Since 1988, over 337,500 people have been served, including more than 152,000 children from 50 countries. The Association of Hole in the Wall Camps is an independent not-for-profit organization dependent upon public funding to serve all children free of charge. Learn more at http://www.holeinthewallcamps.org.
###