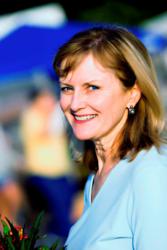 Milwaukee, WI (PRWEB) July 09, 2011
Jeanne Ambrose has been named editor of Taste of Home, the wildly popular 3.2-million circulation food and entertaining magazine, effective Monday, June 20. Most recently a freelance editor and writer specializing in food, nutrition and health, Ambrose is an industry veteran widely known in food publishing circles.
Her most recent project before starting her new role at Taste of Home was to edit and manage every aspect of a MasterChef newsstand special, the first such publication from the popular television show to appear on American shelves. She has also been a contributing food editor at Organic Gardening magazine and a contributing writer and editor for many national magazines. Ambrose is the co-author - with her daughter Lindsey - of the book Heartbreak Recovery Kitchen: Recipes and Remedies for Mending and Moving On. Previous staff positions include editor of Heart-Healthy Living magazine, and food and nutrition editor for Better Homes and Gardens magazine. Her first gigs in the business were in newspapers; first at The Pacific Daily News in Guam, then at The Honolulu Star-Bulletin.
"We're beyond excited to welcome Jeanne to Taste of Home," said Catherine Cassidy, Editor in Chief of Taste of Home. "Jeanne's background in the publishing industry, coupled with her passion for the world of food and entertaining make her a great addition to our robust and growing team."
About Taste of Home
Taste of Home is the leading multi-platform producer of information on food, cooking and entertaining, serving home cooks engaging media that capture the joy and comfort received from food made with love. Taste of Home publishes three magazines (the flagship Taste of Home—America's largest food and entertaining magazine, with a circulation of 3.2 million—Healthy Cooking and Simple & Delicious); top-selling bookazines; newsstand specials; and popular cookbooks. Tasteofhome.com is a top destination for engaging audiences with kitchen-tested recipes, how-to techniques, cooking videos and lively community forums. Taste of Home is part of the Lifestyle Communities group within RDA (The Reader's Digest Association, Inc.). Learn more at tasteofhome.com. Like us on Facebook and follow us on Twitter.
# # #
Find all Taste of Home press releases, media facts, web widgets and more: http://www.tasteofhome.com/Press-Room