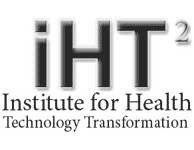 Many trends are converging all of which drive to improve the quality of care and better manage costs
New York, NY (PRWEB) July 08, 2011
The Institute for Health Technology Transformation announced today the speakers for their panel session entitled, "Accountable Care Organizations and Meaningful Use" at the Institute's Health IT Summit in Denver taking place July 26-27, 2011 at the Sheraton Denver Downtown.
The panel will be moderated by Nancy Fabozzi, Senior Industry Analyst, Healthcare, Frost & Sullivan, and speaking will be Steven Grant, MD, VP Physician Relations, Detroit Medical Center; Larry Wolf, Health IT Strategist, Kindred Healthcare; Darren Taylor, VP, Enterprise Analytics and Data Management, BCBS of Kansas City; and Lori Prestesater, Vice President, Strategy and Business Development, RelayHealth.
This session will address topics such as Electronic Health Records, Data Management, Health Information Exchange, and Patient Engagement.
"Many trends are converging all of which drive to improve the quality of care and better manage costs," said Larry Wolf. "These depend on coordinating care, sharing best practices and achieving improved outcomes. They look to remove the barriers between silos of care. Health IT is key enable for these goals."
The iHT2 Health IT Summit in Denver is the premier executive summit focused on the strategies and tools that are re-defining customer care, collaboration and efficiency in the health care provider markets.
Sponsors and Partners for the 2011 iHT2 Health IT Summit in Denver include: RelayHealth, Lancet Software, Intel, VitalHealth Software, Catalyst Solutions, Comcast, Software Testing Solutions, SLI Global, Sago Networks, Standard Register, Apixio, Modis, Accuvant/McAfee, ACT Conferencing, Quantix, AMDIS, Colorado Healthcare Strategy & Management, CMIO, Continua Health Alliance, eHealth SmartBrief, Executive Insight, Frost & Sullivan, HIMSS Colorado Chapter, IDC Health Insights, ISSA Denver Chapter, MarketsandMarkets, Mobile Healthcare Today, ReportsandReports, and SearchHealthIT.com.
About the Institute for Health Technology Transformation:
The Institute for Health Technology Transformation is the leading organization committed to bringing together private and public sector leaders fostering the growth and effective use of technology across the healthcare industry. Through collaborative efforts the Institute provides programs that drive innovation, educate, and provide a critical understanding of how technology applications, solutions and devices can improve the quality, safety and efficiency of healthcare.
###