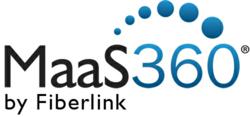 Blue Bell, Pa. (PRWEB) July 06, 2011
MaaS360®, the Mobility-as-a-Service (MaaS) company, today announced a free live webinar titled "Mobile Device Management in a Post-BlackBerry World" on Thursday, July 7, 2011, at 2:00 p.m. Eastern. Fiberlink's Chris Corbet will lead the presentation on how IT can best standardize policy and workflows across iPhone, iPad, Android and Blackberry devices and how MaaS360 can assist with the transition.
Gone are the days of mobile device management with a standard BlackBerry policy and simply delivering data services. The iOS and Android hype machine has reached full steam and with it comes an increase in consumerization and the productivity gains associated with this new app-enabled smartphone revolution. In this webinar, attendees will learn how forward-thinking organizations are embracing this new wave of mobile devices and how this will impact the BlackBerry workflows enterprise IT departments have grown accustomed to.
The event is part of MaaS360's Mobility Operations, Resources and Experts (MORE) series of webinars, providing insight, best practices and expertise from MaaS360's customer platform services team on mobile device management. The next webinar, "Enabling iPhones and iPads in the Enterprise" will be presented by Fiberlink's Donna Lima, on Thursday, July 21, 2011, at 2:00 p.m. Eastern. Attendees will learn the best practices to enable your employees to securely access corporate email, contacts, calendars and corporate data from their iPhones and iPads.
What: Webinar titled "Mobile Device Management in a Post-BlackBerry World"
Who: Fiberlink's Senior Product Manager Chris Corbet
When:Thursday, July 7, 2011 at 2:00 p.m. Eastern
Register: http://links.maas360.com/MDM_Post-BlackBerry
About MaaS360
MaaS360®, the leader in mobile device management is the creator and developer of cloud-based Mobility as a Service (MaaS) solutions. The company's MaaS360 platform enables IT to manage laptops, desktops and smartphones, such as the Android and iPhone, as well as tablet devices such as the iPad, in one window, one system. The company's MaaS360 mobility infrastructure and subscription services have revolutionized how enterprises and business users share and secure information over the Internet. The MaaS360 platform ensures reliable, secure and compliant mobile working for employees, while delivering unprecedented Mobility Intelligence™ to senior management and IT operations. MaaS360 is a recognized leader in mobile device management, helping both Global 2000 companies and smaller businesses cost-effectively support expanding mobile workforces and use mobile devices to remain competitive in today's economy. Additional information about MaaS360 is available at http://www.maas360.com.
© 2011 MaaS360 and the MaaS360 logo are trademarks of MaaS360 and may be registered in certain jurisdictions. All other brand names are trademarks of their respective partners.
###