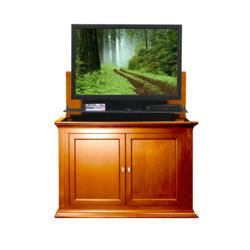 We're really excited about offering an unfinished version in the new Hartford. We've had so many requests for this particular cabinet in unique finishes, and now we can offer either an unfinished cabinet or a custom cabinet in a variety of finishes
Exton, PA (PRWEB) July 06, 2011
Touchstone Home Products announced the release of two distinctive new TV lift cabinet additions to its end of bed collection. The Hartford and the Highland are new TV lift cabinet models designed for placement at the foot of the bed, combining clean contemporary design with new versatile finishes.
Both the Highland and Hartford share the fine craftsmanship as Touchstone's popular Harrison end of bed TV lift cabinet. The Hartford is sold as an unfinished model to allow customers the option of using their own finish or going with a custom color match. Touchstone is also offering over a dozen custom finishes on the Hartford which can be made to order for an additional $299.
"We're excited to expand Touchstone's end of bed line of TV lift cabinets with the rich, dark cherry finished Highland and the new, versatile, unfinished Hartford" said Touchstone Home Products Vice President, Frank Quinlisk. "We're really excited about offering an unfinished version in the new Hartford. We've had so many requests for this particular cabinet in unique finishes, and now we can offer either an unfinished cabinet or a custom cabinet in a variety of finishes."
The two new TV lift cabinets from Touchstone Home Products debuted July 1, 2011 and can be viewed online at http://www.TouchstoneHomeProducts.com/eobcabinets.html.
About Touchstone:
Touchstone is a leader and pioneer in the design and manufacturing of theater lift cabinets. Founded in 2005, Touchstone offers cabinets in contemporary, traditional, and transitional styles to fit seamlessly in almost any home. Bedroom and mid-size cabinets accommodate flat panel televisions up to 45", full-size cabinets will fit flat panel TV's up to 55". Touchstone TV lift cabinets maximize space, enhance in-home entertainment experiences, and provide added safety and security to any room in the house.
###