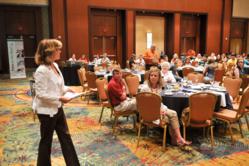 Georgetown, MA (PRWEB) July 08, 2011
LA Kelley Communications took its unique newsletter, PEN's Insurance PULSE, on the road to San Antonio, Texas. PEN's Insurance PULSE is the only newsletter for the bleeding disorder community dedicated to insurance topics. Pulse on the Road, sponsored by Baxter Healthcare Corporation, is a three-hour symposium that brings insurance experts to families with bleeding disorders to address a variety of reimbursement and healthcare reform topics. The program brings the pages of Pulse to life, turns the discussion interactive, and gives families a chance to ask questions and get answers in a live forum.
Now in its second year, Pulse on the Road will be making six stops nationwide in 2011.
An audience of over 200 people with bleeding disorders, family members, and industry representatives listened to expert speakers from LA Kelley Communications, Baxter Healthcare Corporation, Patient Services, Inc. (PSI), and National Hemophilia Foundation (NHF).
LA Kelley Communications president and author Laurie Kelley, who also has a child with hemophilia, started the program Sunday morning with an overview of the bleeding disorder community's unique history, explaining why hemophilia is high on the radar screen of insurance companies and state governments. Elizabeth Stoltz of Baxter Healthcare presented Insurance 101, covering common terms that all families should know to navigate healthcare reform. Michelle Rice, regional director of NHF, presented the results of a 2010 patient-focused survey, which tested how much bleeding disorder patients knew about their own insurance and insurance reform. Jim Romano of PSI gave the keynote on the Affordable Care Act.
The symposium featured three breakout sessions on Medicaid, Out-of-Pocket Costs, and Advocacy. These interactive, informal gatherings were the highlight of the day. Patients asked questions about their personal situations, and learned from the experts. Jim Passamano, partner with Sufian & Passamano LLP, a law firm specializing in chronic disorders and insurance, explained Medicaid changes. Shannon Brown, a social worker from Texas, spelled out which out-of-pocket costs patients need to closely monitor. Michelle Rice presented a new tool to help families get a handle on comparing insurance plans.
When attendees were asked if they had learned something new, every hand in the room was raised. Patients raved about Pulse on the Road: "I would like to have attended all the [break out] sessions and not just one!"
"I'm very pleased at how much I learned and all the wonderful people I met!" Especially helpful was simultaneous Spanish translation of all sessions for the many Spanish-speaking families present.
For other 2011 Pulse on the Road locations, visit http://www.kelleycom.com and click on the Events tab. The next event is the Oklahoma Hemophilia Foundation's Annual Chapter Meeting on Saturday, July 30, in Tulsa.
About LA Kelley Communications, Inc.
Since 1990, LA Kelley Communications, Inc., has been a world leader of groundbreaking educational materials and programs on hemophilia and related bleeding disorders. With more than a dozen books, numerous publications, and the oldest hemophilia newsletter in America, LA Kelley Communications remains a trusted source of practical information about raising children with bleeding disorders. For more information about LA Kelley Communications, please visit http://www.kelleycom.com or call 978-352-7657.
###