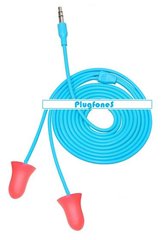 "I use my plugs everyday at work and it makes my 12 hour shift a great opportunity to catch up on great music!"
Saint George, Utah (PRWEB) July 08, 2011
A brand new gadget has some factory workers raving. Plugfones.com reports a surge in website visits as word of mouth spreads about its new musical earplugs.
Lori, a production worker writes in "Just wanted to let you know that I am LOVING these earphones that work like earplugs. I have told many of my friends and they are all looking up your website to buy."
"We really hit a chord with people and they are spreading the word," says Shaun Knudsen owner and founder of Plugfones.com. "Many factory workers are confined to repetitive and boring tasks for shifts as long as 12 hours. Due to the loud machinery, earplugs are necessary; up until now, music was impossible. Once workers hear about our new musical earplugs they get excited. Now they can have the hearing protection of a functional foam earplug and get audio, too."
Plugfones has been busily manufacturing their new musical earplugs since early 2010 in Southern Utah.
New customers can try Plugfones and get 10% off using a coupon code of "10%" on the website http://www.plugfones.com
###