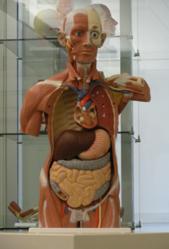 Grand Valley's biomedical engineering program is even more valuable with the university located in close proximity to Grand Rapids' growing medical research and biomedical industries.
Grand Rapids, MI (PRWEB) July 07, 2011
For the first time in West Michigan, students can further their education in one of the fastest growing professions in the nation. Grand Valley State University is the first university in West Michigan to offer a graduate-level degree program in biomedical engineering and it is the only program in Michigan to focus on medical device design and development.
Joe Iannelli, director of the School of Engineering at Grand Valley, explained that the program was brought about by the expansion of the biomedical sector in West Michigan. "Grand Valley's biomedical engineering program is even more valuable with the university located in close proximity to Grand Rapids' growing medical research and biomedical industries," he said. "The aging of the population and a growing focus on health issues will drive demand for better medical devices and equipment designed by biomedical engineers."
Biomedical engineering employment nationwide is expected to rise by 72 percent between 2008-2018, much faster than the average for all occupations, said Iannelli, and the number of biomedical engineering jobs in Michigan is expected to increase by 70 percent by 2018, according to the U.S. Department of Labor. Traditionally, biomedical engineering attracts more women than men. "The number of degrees granted in biomedical engineering has increased significantly, so many biomedical engineers, particularly those employed in research laboratories, need a graduate degree," he said.
The program, funded by a grant from the National Science Foundation and supported by the West Michigan Medical Device Consortium and local companies, will help students match development opportunities with research trends and bring innovative products to market. It is available for students interested in enrolling part-time or full-time, and is enriched by a state-of-the-art biomedical engineering laboratory located on the Pew Grand Rapids Campus. The engineering facilities provide more than 80,000 square feet of space for students to experience hands-on learning and engage in industry-sponsored projects.
The program was developed by engineering professors John Farris and Samhita Rhodes. Farris said students who complete the biomedical engineering program can go on to medical school and careers in medical device/biotechnology industries, research and development, and health care management. "Students who enroll in the program will work with local businesses to design and build devices, especially in the medical industry," he said. "So there's an entrepreneurial twist to the program."
Farris said students will team with other majors at Grand Valley. "In one class, a group of students made a medical device that was tested by physical therapy students on real patients, so their feedback was incredibly helpful," he said.
Anyone with an engineering background is invited to apply for the fall semester, although the program is shaped for people with electrical or mechanical engineering backgrounds. Farris said the program provides four fellowships that will cover all tuition costs and include a two-year stipend. Students may apply online or contact Samhita Rhoades at (616) 331-6267 or rhodesam(at)gvsu(dot)edu.
The School of Engineering also offers two other biomedical-engineering educational opportunities: a five-year joint bachelor and master's degree program and an undergraduate minor.
MEDIA NOTE: Two students currently enrolled in the biomedical engineering master's program are available for interviews, as well as Farris, Iannelli and Charlie Standridge, assistant dean of the Padnos College of Engineering and Computing. Contact News and Information Services at (616) 331-2221.
# # #