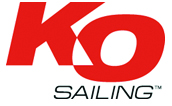 LaPorte, TX (PRWEB) July 08, 2011
Dinghy Planet, LLC today announced the acquisition of KO Sailing, a leading provider of recreational and performance sailboats, kayaks, windsurfers and accessories. KO Sailing's new owner and president, Mark J. McNamara, is a world-class sailor and recreational boating expert. McNamara succeeds the current owner, John Kolius, and plans to continue KO Sailing's longstanding support of boat enthusiasts with a retail store in Texas and an online store at kosailing.com. Current employees will remain with the company and John Kolius will take on an advisory role as a member of the Board.
The acquisition provides for the continued growth of KO Sailing, including the addition of several new product lines, distribution and partner growth, and enhanced marketing programs. The retail business will also be moving to a new location in Seabrook, Texas in the coming months.
"John Kolius has contributed a great deal to youth and performance sailing during the past 20 years," said Mark McNamara. "The company began by supporting one-design sailing along the Gulf Coast and has grown into a solid business with multiple product lines, world-class partners and devoted customers. The boating industry has grown based in no small part to his work, and I aim to continue John's support of local sailing communities, recreational boaters and youth sailors all over the country."
Approximately 75 million Americans participated in recreational boating in 2010, a 14 percent increase from 2009, according to the National Marine Manufacturers Association's (NMMA) annual Recreational Boating Statistical Abstract. Additionally, $30.4 billion was spent on recreational boating, including retail sales of boats, engines, trailers, accessories and services last year.
"Nothing makes me happier than to pass the KO Sailing baton to someone with as much passion as I have for the sport," said John Kolius. "With this acquisition, KO Sailing will continue to support recreational and performance sailing for generations to come—I believe that's very good news for the boating industry."
Youth Sailing
"Youth sailors are the backbone of the sport of sailing," McNamara continued. "Whether it is a nine-year-old sailing her first Optimist or an Olympic hopeful training in his Laser, we provide everything a young sailor needs to fall in love with the sport and contribute to its ever-growing popularity in America."
In support of youth racing, KO Sailing also plans to charter Lasers, Laser Radials, Optimists or Club 420s ready to sail at race events. KO Sailing's support trailer will be on-site at the following events with boats, parts, gear, clothing and sailing accessories available for sale:

Texas Youth Race Week, July 9 – 15, 2011
U.S. Junior Sailing Event/USODA Team Trials Qualifier
Texas Corinthian Yacht Club, Kemah, Texas
Lakewood Yacht Club, Seabrook, Texas
Houston Yacht Club, La Porte, Texas
2011 Optimist National Championships, July 17 – 24, 2011
Houston Yacht Club, La Porte, Texas
KO Sailing will also be sponsoring the 2011 Girls' Optimist Nationals Dinner and Awards Ceremony on Wednesday, July 20, 2011, at the Houston Yacht Club in La Porte, Texas.
Terms of the acquisition were not released.
About KO Sailing
KO Sailing is a premier provider of sailboats, kayaks, windsurf boards and accessories for the water sport enthusiast. Whether it's a pair of hiking pants for your Laser sailor, a comfortable lifejacket for your kayaker, or your child's first Optimist, KO Sailing will ensure your water experience is a success. KO Sailing offers three convenient ways to shop. Visit the retail store in LaPorte, Texas, visit the KO Sailing support trailer at a race event or view the online catalog at kosailing.com.
Editorial note: Headshots of McNamara, as well as photos of him sailing, are available upon request.
###