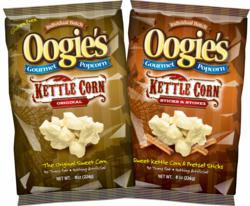 After a year of experimenting, we've created a kettle corn like no other. I'm confident that popcorn aficionados everywhere will love and appreciate Oogie's Kettle Corn. Quite simply, there's nothing else like it out there. - Eric Thier, President
Denver, CO (PRWEB) July 08, 2011
Oogie's Snacks, manufacturer of Oogie's Gourmet Popcorn, is launching new Kettle Corn flavors at the Summer Fancy Food Show taking place in Washington DC July 10th through 12th 2011.
Oogie's Snacks is best known for their savory pre-popped popcorn flavors made with distinctive cheese and spices. Expanding into sweet kettle corn was a natural extension for the company. The two new Kettle Corn flavors, Original and Sticks & Stonez will start shipping in August.
The Original Kettle Corn flavor delivers a twist on the classic sweet & salty kettle corn and will be available in an 8oz and 2oz bag. The Sticks & Stonez Kettle Corn flavor, which brings together Oogie's Original Kettle Corn with Salty Pretzel Sticks, will be available in an 8oz bag.
"Oogie's fans have been asking us for sweet flavors for some time," says Eric Thier, founder & President. "After a year of experimenting, we've created a kettle corn like no other. It has all the traditional elements of a classic kettle corn, but we've 'Oogie-fied' it with some unique flavors and a proprietary processing technique. I'm confident that popcorn aficionados everywhere will love and appreciate Oogie's Gourmet Kettle Corn. Quite simply, there's nothing else like it out there."
"We also wanted something fun, something different, for our second flavor. And with Sticks & Stonez, we've met all our goals and then some. By combining our new Original Kettle Corn with delicious pretzel sticks, we've united two of America's favorite snacks giving a whole new dimension to the 'sweet and salty' experience snack lovers are looking for," continues Thier. "We couldn't be more proud."
In addition to the new Kettle Corn flavors, Oogie's Gourmet Popcorn offers seven distinct gourmet flavors that are gluten free including White Cheddar, Movie Lovers Butter, Sun Dried Tomato & Parmesan, Smoked Gouda, Spicy Chipotle & Lime, Asiago & Cracked Pepper and Hatch Chili Con Queso. All flavors are all natural, whole grain and made with no trans fats and non-GMO corn. Additional flavors are in development.
Oogie's Gourmet Popcorn can be purchased at thousands of retail outlets across the U.S. including Whole Foods, Kroger, Giant Eagle, and Vitamin Cottage. To find a retailer near you and learn more about Oogie's Gourmet Popcorn, visit http://www.oogiesnacks.com
About Oogie's Snacks
Oogie's Snacks is a manufacturer of gourmet pre-popped popcorn. Based in Denver, CO, the company was founded in 2005 by a small group of friends looking to provide a healthier snack alternative. Oogie's popcorn is made in small batches using premium all natural ingredients and a proprietary corn. Their popcorn is currently available at select grocery stores across the country including Kroger and Whole Foods. For more information, visit http://www.oogiesnacks.com or email info(at)oogiesnacks.com.
###