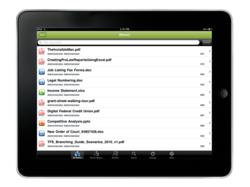 "Nothing beats Bellefield's iDocExplorer for attorneys on the go. I find it indispensable," Attorney Ellis Pittman, Pittman Law
Pittsburgh, PA (PRWEB) July 08, 2011
Bellefield Systems, a leading innovator in Mobile Legal Applications, today announced that iDocExplorer upgraded version 1.4 is now available on the iTunes app store. The free to download app seamlessly integrates with the ProLaw DMS providing immediate access to profiled documents and emails. Users may also email, annotate, and save documents to their iPads.
"Each of the iDocExplorer enhancements resulted from user requests and help unleash the true potential of what the iPad can do. We remain fully committed to our clients and bringing the very best mobile applications to market," said Gabriela Isturiz, Principal Bellefield Systems.
New iDocExplorer v. 1.4 features include:

Browse the ProLaw Document Management System. Documents that are stored in the ProLaw Document Management System can be accessed from by Recent Matters, My Matters, Assigned Matters, or full document searches.
Email. Documents may be emailed from the iPad to any recipient in seconds.
Open In – Documents can now be opened using third party apps.
Annotate / Save. Documents are easily annotated directly on the iPad and may be saved and or emailed with the annotations intact.
Matter level and Document level security. iDocExplorer honors ProLaw security hierarchy and document database restrictions.
"iDocExplorer has become an indispensable tool for my practice. It allows me to access and manipulate any document I created or received for any matter I am working on at any time and any place. That is a powerful tool for lawyers," said Eric Hughes, attorney Hughes & Hughes
iDocExplorer leverages the Bellefield Connect Platform, Bellefield's proprietary enterprise cloud data system, permitting seamless 2-way communication between Legal Management Systems and mobile devices. This ultra-secure platform provides bank level security and encryption of firm and client data.
About Bellefield: Bellefield is a leading innovator in Legal Mobile Technologies, bridging the gap between your enterprise software, mobile devices, and desktop applications. Bellefield's mobile strategy is based on Bellefield Connect, the most robust and secure mobile data platform designed specifically for legal. Guiding the way in mobile computing for legal, Bellefield has released iDocExplorer and iTimeKeep. For more information visit Bellefield at bellefield.com.
###