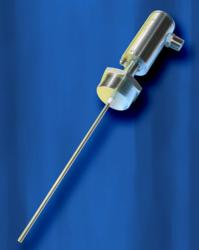 Plainville, CT (PRWEB) July 07, 2011
Gems® Sensors & Controls™ (Gems), a global leader in liquid level, pressure, and flow sensors, miniature solenoid valves, and fluidic systems announced the launch of the new CT-1000 potentiometric level sensors for OEM and end user applications. The CT-1000 sensors provide highly accurate continuous level gauging for the filling of tanks or continuous separating layer coverage in nearly all electrically conductive liquids with resolution of ±1mm independent of pressure, temperature and density.
One of the biggest assets of the sensor is the extremely short measuring times in the millisecond range. The sensor is suitable for a wide-range of tanks with lengths from 8_ to 19.7_ (6 meters) and is available with 4-20mA output or with Hart protocol. Built from robust stainless steel material, the CT-1000 Series offers versions that can handle temperature ranges up to 390°F (200°C) and pressure ranges up to 2,175 PSI (150 bar).
CT-1000 fluid sensors operate according to the potentiometric measuring principle. By means of the micro-controlled sensor electronics, the current impulses are transmitted through a sensor electrode that is electrically insulated from the tank or external tube. This leads to a linear voltage drop on its electrical resistance. If the sensor electrode is dipped into a conductive liquid (≥1 µS/cm) an electrical connection to the environment is created.
"The CT-1000 increases the breadth of the Gems continuous level product line with a highly accurate potentiometric level sensor for electrically conductive liquids," says Kevin Castonguay, Product Marketing Manager for Gems Sensors and Controls. "The CT-100 is a robust, durable and maintenance-free solution because the sensor does not contain any moving parts. The high resolution sensor is suited for a wide variety of OEM and end user applications such as; water and wastewater treatment, chemical and petrochemical processing, semiconductor, boiler, marine as well as applications with liquids that are sticky, with foam or with contaminated liquids."
About Gems Sensors & Controls
Founded in 1955, Gems is a preferred supplier to thousands of OEM companies across a broad range of industries through out the world due to its extensive application knowledge, innovative sensor and miniature solenoid valve designs, and customer centric approach to problem solving to meet customer-specific needs. Gems Sensors & Controls is a leading global manufacturer of: liquid level, flow, and pressure sensors; solid-state relays and barriers; liquid and pneumatic miniature solenoid valves; and pre-assembled fluidic systems with facilities in North America, Europe, and Asia. Gems Sensors & Controls is ISO 9001, ISO 13485, UL, and CE certified.
For more product information, contact Gems Sensors & Controls, One Cowles Road, Plainville, Connecticut 06062. Phone: (800) 378-1600. http://www.GemsSensors.com.
###