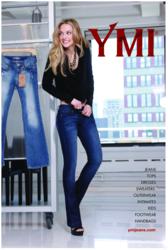 "We see this partnership as a great match," said Deke Jamieson, EVP Marketing and Licensing at YMI. "Blank Generation's youthful culture and successful track record in footwear and handbags makes them a perfect partner."
Los Angeles, CA (PRWEB) July 11, 2011
YMI, a leading junior lifestyle brand most widely known for its top selling denim, recently announced that the company has reached an agreement with Blank Generation of Los Angeles, Ca., for all categories of junior footwear, handbags and small leather goods. Blank Generation's Noir Empire division will assume responsibility for the YMI product and has added additional infrastructure to support this major initiative.
"We see this partnership as a great match," said Deke Jamieson, EVP Marketing and Licensing at YMI. "Blank Generation's youthful culture and successful track record in footwear and handbags makes them a perfect partner." The YMI brand has expanded dramatically and now offers fashion merchandise from "top to bottom". Along with fashion tops, activewear, dresses, sweaters, intimate apparel, sleepwear, robes and bath wraps, denim and non-denim bottoms, and outerwear, Blank Generation's footwear, handbag, and small leather goods completes a head to toe YMI branded fashion statement.
The footwear and handbag collections were unveiled in June in New York at FFANY, one of year's most important footwear shows. Trendy pumps, flats, wedges, boots and booties are slated for Fall delivery along with assorted handbags that will compliment the footwear designs. With a wide array of colors and materials, Blank Generation has created a top-of-the-line look with price and outstanding quality in mind. "YMI's mantra is price/value", stated Blank Generation Group CEO, Travis Anderson. "The brand is known for its sensational styling and for its ability to market products with a perceived value significantly higher than the actual price consumers pay." Anderson went on to say, "We share the same philosophy and plan on offering footwear and handbags that are consistent with the high price/value relationship associated with YMI." Both the footwear and handbags will carry a $29-$79 MSRP.
David Vered, YMI's President and Founder explained, "The addition of these new categories from Blank Generation is an important part of YMI's planned growth. We will continue to strategically extend our brand to other product areas in support of rising consumer demand for new YMI merchandise."
About YMI
YMI is one of the leading nationally advertised junior/young contemporary brands. The corporate office and distribution facility are located in the heart of the downtown Los Angeles fashion district. YMI is distributed at better department and specialty stores nationwide. With its roots in denim YMI is rapidly expanding its product offerings across multiple product categories. For more information, please visit ymijeans.com.
About Noir Empire
Incorporated into the Blank Generation Group in 2011 as a private label and licensing division for accessories and footwear. With over 15 years experience in private label design, development and production Noir Empire provides a full service department for retailers, brands and licenses.
http://www.Noirempire.com
About Blank Generation
Redefined in 2010, Blank Generation is a brand house and world leader in innovative fashion. Currently the parent company of Noir Empire, Iron Fist Clothing and Footwear, IHeart , Abbey Dawn; by Avril Lavigne, and DeadBoy Footwear, Blank Generation is a premier design house, private label source and manufacturer capable of building world class brands and distributing them to over 50 countries through their distribution and marketing channels.
http://www.blankgeneration.com
###