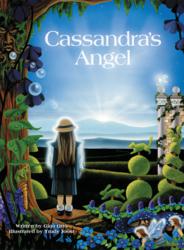 New York, NY (PRWEB) July 06, 2011
Gina's Ink, a global media company founded by award-winning author, international speaker, producer, social entrepreneur, and children's advocate, Gina Otto, has named Krupp Kommunications (K2), a full-service public relations, marketing and branding agency, as agency of record to work hand-in-hand with her to further enhance her global Change My World Now Initiative beginning with the launch of her award-winning, inspirational and powerful book, Cassandra's Angel. In this role, K2 will provide overall brand management as well as all national and regional media relations to develop brand recognition and spread this timely and important message throughout the United States.
To quickly and powerfully reach tween- and teen-aged children with an alternative and truly inspirational message, Gina authored a modern-day fairy tale called Cassandra's Angel. Written to instill the ideas of self-reliance, self-worth, tolerance and self-acceptance early in life, the book is about the stories we are given from the people in our lives about who they think we are…and then dropping those stories so that we can become who we are meant to be.
Cassandra's Angel is slated for release with Sterling Publishing, the publishing arm of Barnes & Noble in October 2011. The PR campaign consists of a 20-city, 20-week national bus tour with a one hour in-school program. The theatrical companion to the book is in development.
"I wrote Cassandra's Angel with the intention to shift the conversation for all individuals, with a focus on young girls and women, by igniting and empowering today's youth so they can see the possibility and promise of a brighter future without limitations," said Otto. "Teaming up with a likeminded agency was a top priority and K2, who is known for launching the book as brand strategy, is a natural fit. I know that working together with Krupp will help to successfully spread the message of Cassandra's Angel and inspire people of all ages to take action in the world."
"We have always been committed to working on projects and organizations that aim to make a difference and impactful change in the world," says Heidi Krupp, founder and CEO of Krupp Kommunications. "Working with Gina Otto to help girls, boys, men and women of all ages break through barriers and facilitate change is a true honor."
About Gina Otto
An award-winning author of Cassandra's Angel, international speaker, producer, social entrepreneur, and children's advocate, Gina Otto is currently pioneering a movement to inspire individuals with her Change My World Now Initiative. Founder of the global media company Gina's Ink, Gina has traveled the world with an ongoing mission to ignite and inspire the possibility and promise of a brighter future without limitations.
About Gina's Ink
Gina's Ink is a mission-driven media and entertainment social enterprise creating a movement for self-esteem, leadership, and self-acceptance for young girls around the world. The company's first multimedia platform is the national launch of an original book, Cassandra's Angel. Partnering with visionaries and luminaries across the not-for-profit, business and entertainment worlds, Gina's Ink, Incorporated has created the Change My World Now Initiative, which engages, educates and empowers American children, facilitating their ability to reach out and in turn, empower children in countries around the world to move beyond their present circumstances and to find the independence and dignity that education can provide.
About Krupp Kommunications, Inc.
Established in 1996, Krupp Kommunications (K2) is an award winning integrated public relations and marketing agency specializing in brand development for lifestyle, entertainment, and publishing properties. K2 works with clients to create customized, strategic campaigns that deliver extraordinary results. K2's mission is to build brands that enrich lives by working with individuals and organizations who improve the world around them. For more information, please visit http://www.kruppkommunications.com.
# # #