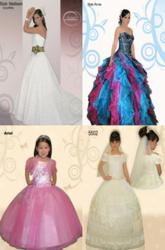 We are sure some boutiques will profit greatly from this liquidation
Houston, TX (PRWEB) July 07, 2011
While love and memories may last forever, businesses come and go. After a year of successfully outfitting brides, quinceañeras, and other young women for their most memorable occasions, Cosmo Bridal in Houston has closed its doors. Opportunity knocks for other retailers: Cosmo wholesalers aim to liquidate $100,000 of inventory.
Cosmo Bridal: An International Sensation
Cosmo Bridal is an extension of the Almacenes Roma Group, a leader in the Mexican bridal market since the 1970s. Almacenes Roma has supplied Cosmo with a gorgeous selection of hard-to-find imports to complement Cosmo's own manufacturing. The exceptional quality of Cosmo Bridal's merchandise, plus a dedicated bilingual staff have helped make the wholesalers a mainstay of the southeastern Texas bridal and quinceañera communities.
Exclusive Stock of Young Women's Party Dresses
Much of the remaining inventory consists of packed and unpacked dresses for teenage women. However, buyers can also get deep discounts on dresses for younger girls' tres años celebrations, first communion, and presentations. As manager Jade Vitela observed, "We are sure some boutiques will profit greatly from this liquidation. Many local Houston clients have expressed how sad they are to see us close our doors."
A wide variety of dress colors and sizes is available, as are accessories such as veils, tiaras, crystal bouquets and rosaries. However, this deeply discounted inventory is expected to move quickly as local vendors return from the 4th of July holiday.
For more information, contact:
Jade Vitela: +1 (713) 429-1441
Rodolfo Garcia: +1 (713) 429-1441
(hablamos español)
###