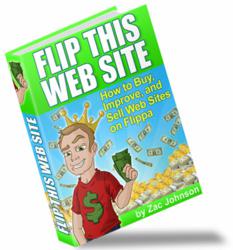 "Zac is without a doubt a leading authority on buying on selling websites. It is great to see him distill his hands-on experience and wisdom into this concise eBook that ticks all the boxes when it comes to understanding website transaction."
Toms River, NJ (PRWEB) July 07, 2011
Noted Internet marketing authority and MoneyReign, Inc. President and CEO Zac Johnson has officially released his brand new book, Flip This Web Site: How to Buy, Improve, and Sell Web Sites on Flippa. The book contains advice and how-to tutorials for buying and selling web properties. This includes specific examples from Johnson's own professional life, like the purchase of popular site BloggingTips.com.
Comprised of over 140 pages, Flip This Web Site provides a comprehensive guide on the process of flipping websites professionally. Subject areas range from avoiding bad listings and using Flippa effectively to promoting sites and selling them for top dollar.
"Zac holds nothing back, as he provides you with his secrets on how to maximize your profits by selling sites on Flippa," wrote Internet marketer Mark Thompson. "He walks you through how you can turn selling websites into potentially a six or seven figure business."
Professional blogger John Chow agreed: "Flip This Web Site stands out as one of the best web site flipping guides out there. The added bonus guide truly makes this an opportunity you can not pass up!"
"I learned a lot about buying, building, and selling a website through the process of trial and error," said e-book author Zac Johnson. "I can now share that knowledge with people new to the industry, allowing them to enjoy similar successes in flipping their own websites."
Even the co-founder of Flippa, Matt Mickiewicz has provided insight on the release of the book. "Zac is without a doubt a leading authority on buying on selling websites. It is great to see him distill his hands-on experience and wisdom into this concise eBook that ticks all the boxes when it comes to understanding website transaction."
Flip This Web Site: How to Buy, Improve, and Sell Web Sites on Flippa by Zac Johnson is available now at http://flip.zacjohnson.com for $47. For a limited time, the e-book comes with several free bonus items, including six review videos and The Mini Niche Web Site Guide: How to Create Killer Mini Niche Web Sites Fast!
About ZacJohnson.com:
ZacJohnson.com is the official blog of "super affiliate" Zac Johnson. It is there that the Internet marketing veteran shares his tips, tricks, and expertise with his online audience. Johnson has been a featured speaker at several prominent marketing and Internet-related conferences, and is a trusted expert in his field.
About MoneyReign, Inc.:
MoneyReign, Inc. is a growing entertainment and marketing network on the Internet, focusing on delivering quality content to readers and viewers all around the world. Its family of web site properties comes backed with over a decade of online marketing experience, generating millions of dollars in revenue for its business partners.
# # #