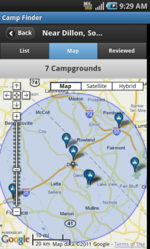 Best of the paid camping apps - The New York Times

The Best Summer Apps - SmartMoney.com
New York, New York (PRWEB) July 11, 2011
Campers and RVers with Android phones can now pack a tent, rev up the RV, and hit the road with the new Camp Finder app for Droid.
Following the success of the Camp Finder app for the iPhone, CampingRoadTrip.com was inundated with requests on Facebook, Twitter and email from campers and RVers demanding an app for their Android phones. "The camping and RVing community has spoken and here it is, by popular demand!" says Julian Fenn, founder of CampingRoadTrip.com "Our team has worked tirelessly to redesign the Camp Finder app experience specifically for Android users. We've kept it simple and useful, so people can spend more of their time enjoying the outdoors and finding great campground and RV parks with just a few taps".
Camp Finder described in The New York Times as "the best of the paid camping apps" and chosen as one of the "…five apps to enhance your summer…" by SmartMoney.com, is a hassle free way to find the perfect place to stay.
RVers and campers can now use the new Camp Finder app for Droid to access the most up to date information and search for campgrounds and RV parks by name, city and state or current location. With just one tap campers and RVers can check out rates, amenities, camping discounts, contact details, photos and reviews posted by others.
Campers and RVers are getting more tech savvy and embracing apps to plan and go mobile. "The credit for Camp Finder for Droid really goes to our community – folks like William, Barbara, Peter, Bruce and Tricia who kept asking 'What about my Android?' Now we can transform your smart phone into a clever campground and RV park directory. Camp Finder puts 14,000 U.S. campgrounds and RV parks in your pocket so you can get the latest information rather than relying on old paper based campground guides."
The Camp Finder app features a simple yet powerful campground search function, the ability to get directions to any campground or RV park, and access to recent RV and camping tips and articles to help outdoor enthusiasts get the most from any camping road trip.
Camp Finder app for Droid can be purchased from the Android Market for $1.99.
Find out more about Camp Finder at http://www.campingroadtrip.com/camp-finder-android-app
###