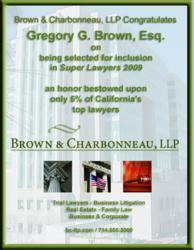 "You've been exploited by men all your life and now you can add me to that list. Inappropriate advances will now cease." (Text Message, dated October 4, 2010 at 12:07 a.m.)
Irvine, CA (PRWEB) July 22, 2011
Irvine trial lawyer Gregory G. Brown obtained a confidential, six-figure settlement in a case against a world-famous Olympian and performer. The employee was terminated on December 7, 2010, and alleged wrongful termination and other wrongful acts in connection with her employment, according to the settlement documents. The high-profile Defendants avoided a contentious and public legal battle in Orange County Superior Court by agreeing to settle the case against them just hours before suit was to be filed. The settlement was reached at mediation without filing legal action, as provided in the settlement documents.
The claimant was employed "at will" by the Defendants' companies for over fourteen years. She was alleged to have been instrumental in developing the businesses into the highly successful enterprises they are today. She had worked 60 - 70 hours per week and was required to travel, often times with her immediate supervisor. The employee alleged that, for more than a decade, she received favorable reviews and raises. According to the employee, she and her immediate supervisor became engaged in a romantic relationship after she became employed. This issue was never in dispute. The employee alleged that she tried to break off the relationship within the first few months, only to be told that she could no longer work at the company if the relationship ended. This is known as, "quid pro quo sexual harassment." It was also alleged that many other efforts to end the relationship occurred, all with the same response.
In October 2010, the relationship ended. According to the settlement documents, the employee alleged that she was then subjected to a hostile work environment. She alleged there would be days where there would be no problems at work, but on other days, the claimant's supervisor would ridicule her in public, wrongfully criticize her, or make inappropriate advances. According to the employee, the supervisor made the following statement to her in a text message, constituting an almost unheard of admission in this area of the law:
"You've been exploited by men all your life and now you can add me to that list. Inappropriate advances will now cease." (Text Message, dated October 4, 2010 at 12:07 a.m.)
Upon termination, the employee was presented with a "Severance Agreement," and advised in writing to seek legal counsel. Defendants had offered six (6) month's salary as a severance, and would not negotiate from their first and only offer when the employee negotiated with them directly, as provided in e-mail exchanges between the parties. The employee hired Gregory G. Brown, a Certified Trial Specialist and partner in the Irvine litigation firm of Brown & Charbonneau, LLP. According to the employee, however, the individual Defendants became combative when Mr. Brown became involved, and began an e-mail and text campaign to discredit her.
Rather than file suit immediately, Mr. Brown made efforts to resolve the case without litigation. The initial settlement demand letter outlined claims for wrongful termination in violation of public policy, breach of contract, sexual harassment, retaliation, disparate treatment, and other employment claims, according to Mr. Brown. A "Right to Sue" letter was obtained by the California Department of Fair Employment & Housing. At the suggestion of defense counsel, a professional mediator was hired, and multiple mediation sessions took place over a three (3) week period. One mediation session went until 1:00 a.m. at the mediator's office in Orange County. Ultimately, the meditation stalled, and litigation appeared imminent. The lawyers, however, pressed on and negotiated over weekends and, at times, late into the night.
The settlement was roughly three (3) times the amount the terminated employee had originally requested as severance, which was approximately one year's salary. By agreement, the terms of the settlement are confidential. If either party reveals the amount, a five-figure liquidated damages clause kicks in and will be assessed against the violating party.
Brown & Charbonneau, LLP Trial Lawyers in Irvine, California
When engaged in a dispute or negotiation, how can you get the leverage you need to achieve your legal goals? Having a certified trial specialist on your side shows strength and can give you an edge at the negotiating table. We are a firm of trial attorneys with a proven track record of courtroom success. We offer aggressive and proactive legal advocacy to businesses and professionals in a wide range of business litigation, employment law, and real estate and construction litigation issues. We represent individuals and families in cases involving divorce and family law. We also bring our trial experience to bear in personal injury cases, helping victims of car accidents, slip and fall accidents and other personal injury accidents.
###