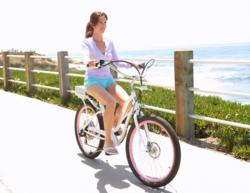 We are delighted to see emerging markets such as college students, international buyers and commuters.
Irvine, CA (PRWEB) July 12, 2011
Pedego®, manufacturers of industry-favorite Pedego Electric bikes, announced that they have tripled their staff and added an adjacent warehouse facility to their existing Southern California location to keep up with phenomenal growth of the brand.
As noted by Co-Founder and Pedego CFO, Terrell (Terry) Sherry, "When we began this business a few years ago we honestly never imagined this astounding rate of growth. Fortunately, we have the right kind of product at the right time. We are riding the wave of interest in alternative means of transportation driven by ever-increasing gas prices and the negative impact of toxic exhaust emissions on our environment. We are delighted to see emerging markets such as college students, international buyers and commuters. This all, simply stated, translated to the need for more space and more staff."
Pedego entered the marketplace in April 2009 with Cruisers in Classic and Step-thru styles which are now available in over 60 different color combinations. The company has been on a rapid ascension path and now boasts over 150 independent retail dealers throughout the United States, and a private label division that develops custom e-bikes for lifestyle brands such as Tommy Bahama.
Don DiCostanzo, President and Co-Founder of Pedego noted, "Pedego is all about fun! Our bikes are an escape from the everyday. Baby Boomers can relive some of the best moments of their youth; college students and commuters enjoy a fun yet environmentally-friendly efficient mode of transportation; and people who normally wouldn't be taking in the great outdoors now can and possibly even burn some calories at the same time! " Don concluded, "We are thankful that we are doing our small part by adding more jobs to the local community, especially in these current times of record-setting unemployment."
Recently, Pedego began distributing and selling their highly-sought-after designs throughout Europe. Additionally, this fall Pedego will be unveiling exciting new styles at this year's Interbike held September 14-16 in Las Vegas.
ABOUT PEDEGO® Pedego® is fast becoming the market leader by creating the coolest and most fashionable electric bicycles outfitted with the latest in electric bike technology. Through our chic, stylish designs partnered with a built-in electric hub motor, Pedego® offers a cost-effective and green alternative for transportation, exercise and recreation. Pedego® Bicycles are perfect for anyone who enjoys the fun of cycling and experiencing the outdoors. Pedego bikes are available for sale throughout the US, Europe and online. Pedego® hello, fun!
###