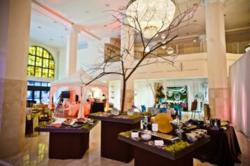 The Bridal Extravaganza and the BeABride site bring to life the photographs that are seen in the wedding magazines.
Atlanta, GA (PRWEB) July 07, 2011
The Bridal Extravaganza of Atlanta already offers Brides and Grooms Planning Weddings the distinction of the wedding show acclaimed as the "Best in The USA" by the Knot's Founder and Editor-in Chief Carley Roney, and now has added a new online video and planning companion site called BE A BRIDE.
The new http://www.beabride.co site, which is also accessible from the BEA'S earlier destination domains of http://www.bridalextravaganzaofatlanta.com and http://www.atlbridalshow.com/ includes video blogs with the latest in wedding trends and ideas with thousands of images, weekly deals and discounts, as well as a social media directory of all featured wedding professionals seen at the Bridal Extravaganza's most recent and upcoming shows.
"This is an exciting way to enhance the wedding planning and decision process for Brides and Grooms, as well as, to offer more dynamic ways to showcase the amazing talent of the wedding professionals who are part of our shows," said Donna Jakulski, the wedding show pioneer who created and produces the Bridal Extravaganza of Atlanta. "The Bridal Extravaganza and the BeABride site bring to life the photographs that are seen in the wedding magazines."
"I love your wedding site and how you keep all of us unorganized brides to be a little less stressed," says bride-to-be Ashleigh Simpson who recently visited the new site and adds she can't wait to attend. "A show that has everything I need to choose from."
The Bridal Extravaganza of Atlanta shows are held at the 200 Peachtree Special Events and Conference Center in downtown Atlanta. The next show will be held on Sunday, August 14, 2011 from 1 to 5 pm. Registration is now open, with General Admission tickets available for $10, and a limited number of VIP Bride packages for $25.00. General Admission on the day of the show is $15.
The show attracts thousands of brides and wedding planners at its semi-annual "extravaganzas" and provides a unique theme gallery, trend showcases and cutting-edged fashion shows more akin to the runway in Paris or Milan that set it apart from other trade show based bridal shows.
"We set out to produce an extraordinary event," adds Jakulski. "And that will always be our hallmark. We're setting out to bring that same level of passion for the extraordinary to our online and social media planning platforms as well."
Susan Graham, a featured speaker at previous BEA produced events and one of Atlanta's Top Wedding Planners, contributes weekly Wedding Trends columns and video segments to the new BE A BRIDE site, Susan will appear at the August show . also featured in upcoming editions of Bridal Buzz, a new web-based TV program on the changing business of bridal marketing.
"Brides will leave the show feeling empowered and ready to plan the wedding of their dreams," said Graham.
The next Bridal Extravaganza of Atlanta will feature spectacular themed wedding galleries designed by some of area's best special event designers. Not only will brides will see the season's top trends, but designers will be on hand to help them personalize their celebration and help make their wedding unforgettable. In addition, brides will see an over-the-top wedding cake gallery, compare traditional and photojournalism styles in the photography gallery and view the hottest blossoms in the bridal bouquet gallery.
# # #