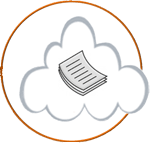 Customer uses bar codes to help create touchless, seamless document management
Dallas, TX (PRWEB) July 07, 2011
Bar codes provide tried and true technology, making document management easier, faster, and more cost effective -- all while eliminating manual keying errors. A new white paper and case study reveals practical ways bar codes can be used in any business practice.
"Bar Codes: A Primer for Document Management," provides practical advice on which bar code formats to use, how to create them for free, how to create bar code label sheets, or incorporate bar codes into document templates. eGistics, provider of the CloudDocs on-line document management system, is the author of the white paper.
"This white paper, which includes a helpful case study, and 'The Top Five Uses of Barcodes for Document Management,' will be an invaluable aid to anyone wanting to add bar codes to their document management efforts," said eGistics Vice President Sales and Marketing Operations Randy Davis.
For a free copy of the report, visit http://www.egisticsinc.com/html/clouddocs_download.html. A simple form must be completed to download the White Paper.
CloudDocs (by eGistics)
Companies use eGistics' CloudDocs for on-line document management in order to safely store and quickly retrieve HR records, loan documents, accounts payable information, medical records and other critical documents. Designed specifically to eliminate confusing, ad hoc filing schemes and securely protect documents from loss, damage or unauthorized access, CloudDocs saves money, reduces risk, and allows better customer service compared to paper-based systems or generic online document management systems. Ph. 214-256.4600. Web: http://www.egisticsinc.com/html/clouddocs.asp Twitter: @egistics
# # #