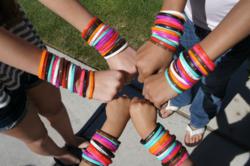 Stack 'em, wear 'em, smell 'em!
Los Angeles, CA (PRWEB) July 11, 2011
Children's products are always among the most popular items in stores, as parents everywhere love spoiling their kids for birthdays and holidays. One recent trend that has kids and parents alike lining up at toy stores are various types of rubber wristbands. These are not old fashioned brown rubber bands. One visit to http://www.smellybandz.com confirms that. Wristbands now come in a variety of colors, shapes, and now even smells.
There are many choices when it comes to finding rubber bands for kids. However, there is a company that is manufacturing wristbands that are not only colorful but also smell great. This innovative new company is called Smellybandz. They are taking a trend started by Sillybandz several years ago and building on their success. Wristbands that were being bought by the cartload now come not only in a variety of colors but also different smells. That is the new direction of the trend according to Smellybandz founders Brenda Zorkin and Claudia Johnson. The sisters-entrepreneurs are committed to their goal of making Smellybandz the next big thing on everybody's must have list.
Smellybandz is a Los Angeles based family business with a vision of manufacturing high-quality, 100% silicone wristbands that are scented at the factory to make the scent last several months. The scents range from strawberry and grape to bubblegum and chocolate guaranteeing kids and teens will find the one they love. The quality of the product can be felt by just holding a "smellyband" in hand. It is definitely a unique idea and if the trend holds it will captivate the minds of kids everywhere.
Even though Smellybandz are primarily targeted at children and teenagers they can easily be worn by adults. The bands are more comparable to the Livestrong bands then Sillybandz in size and shape and of course the lively smell is what separates this product from the competition.
According to Brenda Zorkin "Smellybandz is a brand new, original product. Our preliminary market tests proved successful and kids that have tried our product have literally became obsessed with it. We are looking forward to having you as our customer."
Smellybandz come in attractive packaging that includes three bands. Smellybandz can be purchased at the nearest toy store and shopping center as well as their website http://www.smellybandz.com
Smellybandz are now available at their brand new location in the Westfield Topanga Shopping Center.
Brenda and Claudia can be reached toll free at (800)916-7713.
###