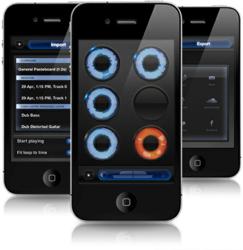 This is the best loop station on the iPhone.
Hasselt, Belgium (PRWEB) July 07, 2011
Version 2 of the sophisticated iPhone live looping app Loopy launched mid last month to community acclaim. Professional beatboxer and looper Dub FX published a YouTube video on Sunday demonstrating the app's capabilities by producing an entire song live, in a single take. Loopy combines power with simplicity, and sports a sleek, tactile interface that lets anyone create music by layering looped recordings of singing, beatboxing, or playing an instrument.
"This is the best loop station on the iPhone," said street performer, recording artist and early-adopter of new technology Dub FX, who published a widely-viewed YouTube video on Sunday demonstrating the live looper iPhone app to impressive effect. "Maybe I should get rid of my pedals!" In the video, the beatboxing and looping specialist performed an entire song live, building up drum, bass and melody tracks.
An increasing number of musicians are using the iPhone and iPad platforms for music creation and performance, with the notable examples of Gorillaz, who created their latest album entirely on an iPad while on tour; Bjork, who partially recorded her new album on an iPad and DJ Rana June Sobhany, who has replaced the traditional DJ's kit with two iPads.
Loopy 2.0's reception, and Dub FX's compelling demonstration of live performance using the app indicates that the new iPhone looper app has great potential to open up the iOS platform to loopers and beatboxers.
Loopy empowers musicians and casual users alike to:
Record and Layer:

Six tracks, represented by six beautiful circular loops.
Count-in and count-out lets users keep their hands free to play an instrument.
Overdub, to build beautiful, complex soundscapes from many layers.
Import and Construct:

Import loops (AIFF, WAV, MP3 and more) from a computer.
Integrated MAPI AudioPaste to bring in audio from other apps.
Imported loops are automatically fit to the beat, no matter what tempo.
Manipulate and Tweak:

Full stereo audio with pan controls.
Drag a track onto another track to merge.
Live, dynamic tempo adjustment, without altering the pitch.
Perform and Share:

Record whole performances with in-app session recording facilities, and upload straight to SoundCloud, and post to Twitter or Facebook.
Email audio clips.
Share audio with many other audio apps with MAPI AudioCopy.
Device Requirements:

iPhone 3Gs or newer, or 3rd-generation iPod Touch or newer (microphone accessory recommended) running iOS 4.0 or later.
Loopy runs on the iPad and iPod Touch, but it is not specifically designed for these devices. iPod Touch users must use Loopy with a headset, as the iPod Touch does not have an inbuilt microphone.
Pricing and Availability:

Loopy is available at the special launch price of $2.99 (USD) exclusively through the App Store in the Music category.
# # #