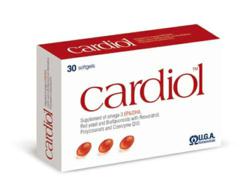 At 40 years old, I was diagnosed with a cholesterol level of 238, which is well over the maximum allowable level of 200. Thankfully, I had a open-minded and insightful doctor who immediately took action and started me on a natural therapy called Cardiol
Solana Beach, CA (PRWEB) July 07, 2011
Learning how to lower cholesterol levels naturally not only improves a person's quality of life, but also can extend their life, revealed Solana Health president, David McMahon today. It is commonly reported in medical journals that 20% of people suffer mild to severe side effects when being treated for high cholesterol with Lipitor or Simvastatin, which both belong to the group of prescription drugs known as Statins.1
"When I turned 40 years old, my cholesterol levels were a record 238, which was way over the recommended maximum of 200, so my doctor immediately took action and suggested an all natural approach that included Omega-3, Red Yeast Rice and CoQ10 that was very effective in lowering cholesterol levels and didn't include statin therapy.
"Thankfully, through this approach, I didn't have to suffer any of the side effects that have been reported by thousands of people treated with Statin therapy" reported David McMahon. "Once I learned how to lower cholesterol levels naturally I created an all natural, one-a-day capsule called Cardiol that contains nine ingredients that have been shown to lower cholesterol levels. I take Cardiol everyday and enjoy an active life style that is free of any muscle pain side effects."
Even today patients that report Statin side effects to doctors are frequently ignored, as reported in a recent study by researchers at the University of California San Diego.2 The authors noted that many doctors refuse to acknowledge that Statins are the cause of the side effects they are suffering and chalk it up to age, other conditions, and even the patient's poor mental health, instead of offering them natural choices for lowering cholesterol levels.
Due to the expense of statins and the potential for serious side effects, learning how to lower cholesterol levels naturally with exercise, improved diet and products like Cardiol is a no-brainer.
In conclusion, if you are suffering the side effects from statins or you have just been diagnosed with high cholesterol, visit our educational website http://www.howtolowercholesterollevels.net and learn more about lowering cholesterol levels naturally. While visiting our website you can also download our free e-book, "How to Lower Cholesterol Naturally", it contains valuable information and research to help you make an informed decision.
About Solana Health
Solana Health is a California-based wellness company committed to providing the highest quality nutritional supplements at the best possible prices. Solana Health supplements are registered with the FDA and manufactured under Good Manufacturing Processes. Their products are considered pharmaceutical-grade and every batch of supplement ingredients is third party tested to guarantee purity and potency. Solana Health distributes Cardiol, a one-dose-per-day supplement that combines nine potent natural ingredients that are proven to help lower LDL and raise HDL cholesterol levels. For more information, to request Solana Health's free downloadable report How to Lower Cholesterol Naturally So You Can Live the Long, Happy Life You Deserve, please visit http://www.howtolowercholesterollevels.net
References: 1. CNN.com (http://www.cnn.com/2009/HEALTH/06/16/cholesterol.red.yeast.rice/) 2. Golomb BA, McGraw JJ, Evans MA, Dimsdale JE.Physician response to patient reports of adverse drug effects.Drug Safety 2007;30(8):669-675. 3.
###