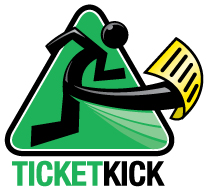 We make it simple and easy so our customers can beat their traffic tickets and move on with their life.
San Diego, CA (PRWEB) July 13, 2011
California drivers know all too well the fines and hassle associated with receiving a traffic ticket. Until recently, drivers who were cited with a ticket were left with the option of trying to fight it on their own, hire an expensive attorney, or just pay their ticket. California based legal company, TicketKick® fills that niche market for people who would like the assistance of a qualified team of experts to help them fight their traffic ticket without paying the average attorney fees or having to risk the extra cost associated with hiring assistance.
TicketKick® has helped thousands of drivers fight speeding, red-light, stop sign, and other common traffic tickets and has always offered a money back guarantee of their defense fee. Until now, like other similar services in the industry, they charged a non-refundable administrative fee to help cover their overhead costs. Greg Muender, TicketKick's Founder and President says, "Most people were OK paying the admin fee, but we got to thinking, 'Why should we keep any of their money if their case doesn't get dismissed?' so now we don't, and now our customers truly have nothing to lose using our service."
TicketKick® is now proud to announce their new refund policy: a 100% money back guarantee of their Flat Fee™, making them leaders in the industry as being the most affordable traffic ticket defense experts offering an unbeatable level of customer service and expertise in traffic ticket defense. They've also made it easier for their customers to apply for a refund if their case is not dismissed. "We used to require our customers to mail us their refund request documents, but now we welcome a simple and easy fax or email with a copy of their notice of decision so we can start their refund process right away," Greg added. "The point with TicketKick® is to provide the most simple and easy process possible in helping people get their ticket dismissed. Other companies may have very strict or ridged terms and conditions but that just makes the process difficult for everyone. We make it simple and easy so our customers can beat their traffic tickets and move on with their life."
TicketKick® is a registered Legal Document Assistant in California, providing self help services in traffic ticket defense, with a similar service model to companies such as LegalZoom and E*Trade. TicketKick® works with attorneys in California in developing their defenses, which utilize many different arguments and tactics. TicketKick's goal is to help people get their traffic tickets dismissed, and although not every customer will win their case, TicketKick® offers a full refund and a free consultation for guilty verdicts. TicketKick® representatives can be reached at (800) 580-1902, at http://www.ticketkick.com, or at questions(at)ticketkick(dot)com.
###