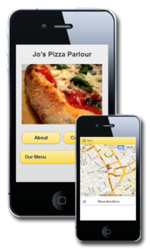 Mobile browsing is the future of the internet and it's critical that businesses move into this space sooner rather than later
London (PRWEB) July 08, 2011
As mobile overtakes the PC as the most popular way to get on the Web, many users have experienced the frustration of trying to browse a website built for desktop PCs on our mobile devices.
Octomobi.com has been operating in stealth mode since the beginning of 2011, and is now launching its free tool that anyone can use to create feature-rich mobile websites, also referred to as 'web apps', in a matter of minutes with no technical expertise required. Mobile web apps look and behave similar to mobile native apps that you can download in the App Store or Android Market, but are instantly accessible via any mobile browser.
The web apps created with Octomobi use the latest in mobile web technology, such as HTML5, QR Codes and the Jquery Mobile framework. According to Alex Michaelis, co-founder of Octomobi, their main goal is to empower personal and business users to develop a professional mobile web presence quickly and cost-effectively. "We've combined some powerful technology to build a tool we feel is simple enough for anyone to get themselves and their business on the mobile web. Mobile browsing is the future of the internet and it's critical that businesses move into this space sooner rather than later", says Alex.
Octomobi.com is available today in both free and paid versions, you can find out more at http://www.octomobi.com.
###