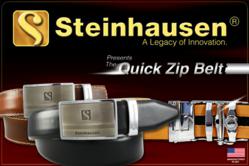 No more belts with traditional buckles. No holes that stretch, wear and tear.
Los Angeles, CA (PRWEB) July 08, 2011
Steinhausen has launched an innovative patent-pending Quick Zip Belt line manufactured in the USA with eco-friendly, premium leathers that have been tanned with vegetable oil. The Quick Zip Belts have a very unique mechanism giving the user a first of its kind experience. Steinhausen's Quick Zip Belt is designed with a track mechanism and a high tech buckle that has an attached lever that locks into the track. This distinctive mechanism allows for micro-adjustments enabling the perfect fit irrespective of the size of the waistline. Traditional belts come with holes or notches and users have to either wear the belts loose or squeeze into fixed notches. Steinhausen's patent-pending no hole belts eliminate all such issuess with no need to worry about wearing belts that give an awkward or uncomfortable feeling.
These micro-adjustment belts are designed to work like a zipper; simply press the release lever to slide the belt in and out of the buckle. The micro-adjustment track is sewn into the back of the belt. The buckle fits tight onto this micro-adjustment track and locks itself – restricts movement until released.
Steinhausen is known for creating innovative products and is proud to have manufactured the Quick Zip Belts in the USA. This company has been a leading manufacturer and online retailer of premium watches, automatic watches, quartz watches and watch winders in addition to other watches and men's accessories. Steinhausen continues to be a source of innovation with many versatile products. Among the top products from Steinhasuen, is the automatic Swiss Movement watch, dating back to 1923; the world's thinnest calendar watch along with lifetime warranties on all watches and an industry first of lifetime warranties on watch winders. The latest in its legacy of innovation is the Quick Zip Belt!
Quick Zip Belts can be ordered as a two piece set choosing from a great selection of buckles and premium leather belts – at affordable prices. Since the buckle can be ordered separately from the belt, it allows the user to have a wide range of options to match any outfit. The buckles are made with an easy to use security mechanism for switching the premium leather belts. To know more about the Quick Zip Belt view Steinhausen's video and to purchase please visit http://www.steinhausenonline.com/belts/mens-belts .
###