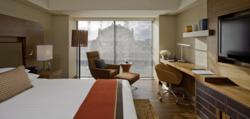 "Our exciting renovation will reveal a sophisticated and luxurious new product, providing guests the very best in style, comfort and technology."
San Francisco, CA (PRWEB) July 07, 2011
Grand Hyatt San Francisco, an iconic hotel located in the heart of San Francisco's Union Square, announces an extensive $70 million, multi-phase transformation. With completion anticipated for fall 2012, the substantial project will re-establish the landmark hotel as a world-class property, with 659 newly appointed, tech-forward guestrooms and suites, and a redesigned Grand Club®, lobby, open kitchen concept restaurant and lounge, and upgraded meeting facilities.
"With our unparalleled location in the heart of vibrant Union Square, Grand Hyatt San Francisco has been a time-honored favorite for visitors to the city by the bay for more than 42 years, offering limitless access to world-class shopping, historic landmarks and attractions, and premier dining and entertainment," said David Nadelman, general manager of Grand Hyatt San Francisco. "Our exciting renovation will reveal a sophisticated and luxurious new product, providing guests the very best in style, comfort and technology."
Elegant Guestroom Renovations – The hotel recently completed the renovation of all 630 guestrooms and corridors including 21 Respire hypo-allergenic rooms designed to provide a comfortable sleeping environment for all guests, especially allergy sufferers. The new residential-style guestrooms feature ergonomic and spacious workstations, custom woodwork and spa-like glass and tile bathrooms. Rooms also have the latest in wired and wireless technology, including Uno-Bitell phones that double as alarm clocks and iPod® players, and 37" LCD flat screen HDTVs that can be watched from all areas of the rooms. Connected to the televisions are jack packs, all-in-one multimedia hubs that easily pair the television with laptops or DVD players. Smart door locks "talk" to the thermostat and in-room safe, creating a wireless network, which helps the hotel monitor energy use and notify guests if items are left in the safe upon check-out. Floor-to-ceiling windows create sweeping views of the city and bay, while electronic blackout shades ensure a great night's sleep.
New Grand Club®, Suites, and Meeting Space – Slated for completion in Aug. 2011, the renovation of Grand Hyatt San Francisco's Grand Club® will provide new, exclusive and sophisticated amenities for members of the elite Diamond tier of Hyatt Gold Passport, Hyatt's global loyalty program, as well as guests staying in Grand Club® rooms. In addition, the hotel's 29 spacious suites will be completely updated to include hardwood floors, residential style furniture and fixtures, and the latest high-tech enhancements. The hotel will offer a variety of suites designed to fit a broad range of entertainment and business needs.
The renovation of Grand Hyatt San Francisco's meeting space will also be completed in Aug. 2011. The transformed space will include the creation of the hotel's Grand Foyer, 5,700 square-feet of flexible meeting space. The renovated Grand Foyer will be a highly-adaptable meeting and event space that can accommodate both large and small groups.
Renovations in 2012 – Additional improvements to Grand Hyatt San Francisco, expected to begin in early 2012, will include the redesign of the front drive and lobby, the introduction of a new open kitchen concept restaurant and upscale bar, and the exciting repositioning of Grandviews Restaurant and Lounge.
For more information about Grand Hyatt San Francisco, please visit the hotel online at http://www.grandsanfrancisco.hyatt.com or call (415) 398-1234.
About Grand Hyatt San Francisco – Sophistication on a Grand Level
With an unparalleled location in the heart of the vibrant metropolis of San Francisco, Grand Hyatt San Francisco offers luxurious accommodations, authentic hospitality and limitless access to the City by the Bay's world-class shopping, historic landmarks, attractions, premier dining and entertainment. Ideal for business and leisure travelers alike, Grand Hyatt San Francisco features 659 guestrooms, including 29 suites, Respire hypo-allergenic rooms, a private Grand Club, expert Les Clef d'Or Concierge staff, a state-of-the-art Stay Fit health club, sophisticated dining with spectacular panoramic views, as well as award winning business facilities with 25,000 square-feet of flexible function space, plus San Francisco's only conference theatre. For more information regarding Grand Hyatt San Francisco, please contact the hotel by phone at 415.398.1234 or visit the hotel website: http://www.grandsanfrancisco.hyatt.com
###