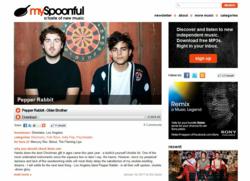 mySpoonful, #3 on Entertainment Weekly's "The Must List": "Consider it the hipster music friend you don't have. This site tips you off to new bands worth checking out, with free MP3s and a thrice-weekly newsletter."
San Francisco, CA (PRWEB) July 07, 2011
mySpoonful announced the launch today of its new "Band of the Month" contest via their website (http://mySpoonful.com) and email newsletter. Ranked #3 on Entertainment Weekly's "The Must List," mySpoonful hits the national spotlight with its new "spoonful" format that delivers independent music to busy people. Three times a week, mySpoonful handpicks a single new artist that music fans should know about, and includes a free MP3 for listening or download. Fans now have the opportunity to engage with their favorite bands by voting for them as the Band of the Month. All band entrants are culled from the mySpoonful artists for that month, and the artist with the most "likes" wins. A new contest begins the first of every month and runs through the 15th of the following month. The winner is announced the week of the 15th of the following month.
The winner of the "Band of the Month" contest will receive an additional Featured Artist email announcing them as the winner, promotional tools including a 1-year Pro ShareSquare account and a 6-month SuperSonic subscription to Sonicbids, an online plaque highlighting them as the people's choice for that specific month, and a press release announcing the win.
"We are very excited about the launch of the mySpoonful 'Band of the Month' contest," said Amos Schwartzfarb, mySpoonful cofounder. "This interactive element will help facilitate the growth of all these great up-and-coming artists by providing an outlet for acknowledging what people really like. This is exactly what mySpoonful is all about! 'Band of the Month' is a great way for the mySpoonful community AND the bands fan-base to show their appreciation for the great music these artists are releasing while helping them reach a broader audience."
mySpoonful's unique format is concise, simple and consistent, and lets music lovers learn about new artists any way they want - via web, email, Facebook, Twitter and a mobile site, where people can play and download songs right to their smartphone or mobile device.
mySpoonful features independent music from a variety of genres, including rock, pop, hip-hop, electronic, folk and more, with a focus on new artists that are outside the mainstream. mySpoonful's team of insiders, curators and tastemakers does all of the work of finding new music, sifting through thousands of bands and musicians and carefully selecting featured artists.
Each spoonful features an up-and-coming artist and contains a free song download, an artist photo and an original bio from mySpoonful's team of writers. In addition, if a fan wants to learn more, each spoonful provides a video, links to other bands readers may like, live performance listings and a link to buy more music.
"Consider it the hipster music friend you don't have," says Entertainment Weekly. "This site tips you off to new bands worth checking out, with free MP3s and a thrice-weekly newsletter." mySpoonful has caught on like wildfire in the tech world. TechCrunch.com reports, "mySpoonful is like a DailyCandy for indie music." Mashable says, "Not everyone has incredibly cool friends who constantly send them intriguing new music - that's why mySpoonful could be a handy resource for people looking to discover bands."
The mySpoonful founding team includes music and Internet veterans including Dan Cohen (CEO), Stacy Horne (Editor-in-Chief), and Amos Schwartzfarb (COO). The team's impressive track record and music and digital media credentials includes creating and leading several successful startups, work at Yahoo and Google, and producing and vetting talent for premier independent music events and festivals such as CMJ Music Marathon, Noise Pop, and the Treasure Island Music Festival.
The founders came up with the mySpoonful concept out of their homegrown passion and appreciation for discovering and sharing music. "We had a lot of requests from friends to recommend new artists, because they were 'out of the loop' due to work, family, and other life responsibilities," said Stacy Horne, mySpoonful cofounder and Editor-in-Chief. "We thought it would be a great idea to share our knowledge with fans who need some help navigating all of the information out there, and curate an online space for them to enjoy great new music at their own pace and on their own time."
Started as Spooonful, a regional weekly e-newsletter in San Francisco, mySpoonful already has a dedicated national following of email subscribers. With its rapid growth, mySpoonful has the potential to be one of the breakout online brands of 2011.
For more information, please visit http://mySpoonful.com.
Additional Prizes for the mySpoonful "Band of the Month" Contest are provided by:
Sonicbids is the leading matchmaking site for emerging bands and music promoters, with a mission to empower the Artistic Middle Class by helping bands find, apply for, and get gigs. Since its launch in 2001, Sonicbids has become the de-facto standard for submitting music to events and opportunities around the globe, including mySpoonful. In 2010, bands and artists using Sonicbids booked close to 80,000 "gigs" through the site.
ShareSquare focuses on bridging the divide between offline and online by using smartphones as the catalyst to connect people's passions with immediate calls to action and engagement. ShareSquare's solutions leverage QR Codes, HTML-5, and the native browser on a mobile device to deliver a compelling social, local, and mobile app experience from any smartphone.
# # #