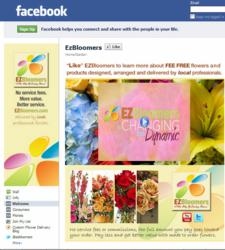 "...make educated opinions when buying flowers for friends and families"
Indialantic, FL (PRWEB) July 07, 2011
EZBloomers.com, a popular online service known for their new approach of providing "fee-free flowers" is now on Facebook at http://www.facebook.com/ezbloomers. The new social media site is a place where customers can learn more about the company and interact on a number of custom floral arrangement topics.
Facebook has more than 500 million active users and continues to grow across multiple demographics. In order to reach this vast and growing market, EZBloomers.com has developed a professionally designed Facebook page for their online business with custom graphics and social marketing tools.
"We want to engage our customers and make sure they know how we do business so that they can make educated opinions when buying flowers for friends and families," says Kimba Vasquez, President of EZBloomers.com. "Facebook is a great way for us to explain our unique approach to the flower business and our commitment to our customers."
The company's new Facebook page features information for florists and consumers; Slideshare presentations; information about EZBloomers.com's unique custom flower delivery; and general information about the company. "We are a company that likes to have fun, as well as work hard for our customers," says Vasquez. "Our new Facebook page highlights how we operate to ensure that our customers and florists get the very best service in the industry." stated Vasquez.
In addition to customer outreach, EZBloomers.com's Facebook page will host exclusive promotions and contests for its Facebook fans. "We want to say thank you to our fan base for supporting our social networking pages by offering them exclusive discounts, contests, and promotions that only followers of Facebook can receive" concluded Vasquez.
To become a fan of EZBloomers.com's Facebook page and learn more about their company's unique approach to the online floral industry, exciting new promotions and contests, and communicate with other fans, please visit http://www.facebook.com/ezbloomers.
About EZBloomers.com: One of the leading online resources working to link top local florists with consumers, EZBloomers.com (http://www.ezbloomers.com/) offers custom floral arrangements without the high-priced service fees that have monopolized the online floral industry. No service fees allow the total amount to go towards what their customers order, allowing for a better quality product and ultimately the best value.
###