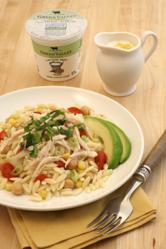 "Our products just happen to be lactose free. They taste special, not special diet," said Green Valley Organics Owner Jennifer Bice.
Sebastopol, CA (PRWEB) July 07, 2011
This summer lactose intolerant guests can say "no problema" to topping their Lime n' Garlic Grilled Flank Steak with Creamy Pico de Gallo. And they won't have to pass on a serving of Summer Sunshine Salad tossed with Lemony Yogurt Dressing when it is passed around the table. Summer-sational recipes made with Green Valley Organics® real cow dairy lactose free sour cream, yogurt and kefir, make it possible for the estimated 1 in 10 people that are lactose intolerant to enjoy all the cool, creamy, deliciousness of summer tummy trouble free.
"The only thing missing in our products is the lactose," said Green Valley Organics Owner Jennifer Bice. "By adding the natural enzyme lactase during production the problem-causing lactose is removed. The quality, consistency, texture and flavors appeal to anyone who enjoys the taste of creamy, delicious, real dairy. Our products just happen to be lactose free. They taste special, not special diet."
All of Green Valley Organics products, which include yogurt, kefir and their new product sour cream, are also gluten-free, kosher, Certified Humane Raised and Handled® and contain no GMOs.
Heat Up Outdoor Entertaining with Cool and Creamy Recipes
Creamy Pico de Gallo made with new lactose free Green Valley Organics sour cream will have guests saying "Ole." While it is completely lactose free, Green Valley Organics sour cream has all the rich texture and full flavor one would expect in a high-quality sour cream or a crème fraiche. This easy-to-make topper blends one cup of sour cream with fresh or store-bought pico de gallo. Serve the salsa with sliced Lime N' Garlic Flank Steak, a quick cooking, lean steak infused with south-of-the-border flavor that is perfect for family style summer entertaining. Guests can build their own soft tacos starting with slices of steak on a soft corn tortilla and garnishing with a combination flavorful fillings such as grilled peppers, pickled onions, shredded lettuce or cabbage, rice and beans and topping with a generous spoonful of creamy pico de gallo.
Summer Sunshine Salad with Chicken, Orzo, Chickpeas is tossed with Lemony Yogurt Dressing and can be served as a main dish or side salad. For a boost of fiber, protein and B vitamins, switch out the orzo with hearty grains like quinoa, brown rice, wheat berries or faro. Double the dressing recipe and the dressing does double duty as a tenderizing marinade for grilled chicken.
For complete recipe nutrition information and EZ tips for these recipes and additional delicious recipes and serving suggestions, visit http://www.greenvalleylactosefree.com.
About Green Valley Organics Lactose Free
Green Valley Organics® Lactose Free yogurts, kefirs and new sour cream were created to help folks who are lactose intolerant enjoy all the health benefits and great taste of real dairy without the tummy troubles, bringing peace, love and dairy back into their lives. From Redwood Hill Farm & Creamery, a family-owned company committed to digestive health for more than 40 years, Green Valley Organics is a brand consumers can trust, made with organic milk that carries the Certified Humane Raised and Handled® label, which is considered the gold standard in third-party certification for humane animal treatment. Green Valley Organics is also the only dairy brand with Flourish®, the company's custom blend of 10 live and active cultures that deliver millions of "good-for-you probiotics" in every spoonful. Dedicated to protecting the environment and green open spaces, Green Valley Organics is a proud supporter of the Climate Protection Campaign, Sonoma Land Trust and Sonoma Land Paths. Visit GreenValleyLactoseFree.com for tips on living with lactose intolerance, great recipes and more information about the company's wholesome products and earth-friendly business practices, including the recent installation of a new solar energy system at the Green Valley Organics creamery.
###