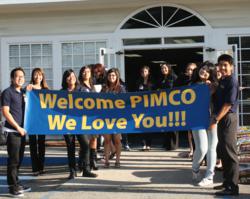 Closing the achievement gap isn't just a good thing to do it is the only thing to do."
Santa Ana, CA (PRWEB) July 08, 2011
Olive Crest's NOVA Academy in Santa Ana announced today that The PIMCO Foundation has awarded a $300,000 grant to the acclaimed charter high school for at-risk teens. The funds will be used over the next three years for a variety of programs designed to help students catapult into their successful high school careers and prepare them—academically, logistically and financially—for college.
First, The PIMCO grant will allow all incoming ninth-grade students to attend an intensive, proactive three-week Summer Advantage Program at NOVA that will assess students' math and English skills and devise individual plans to close the achievement gap. The grant will also provide for a two-week Summer College Pathways program to give all 11th graders a jump-start on preparing for college applications, personal essays, scholarship applications, research on majors, and more. Finally, PIMCO's generous donation will provide renewable yearly scholarships to students who would not otherwise have the resources to attend four-year universities.
"The PIMCO Foundation is pleased to partner with NOVA Academy. They are doing an outstanding job of providing at-risk students with a quality high school education and motivating them to succeed in college," said Mark Porterfield, executive director of The PIMCO Foundation. "We want to reward organizations that are making a significant impact in our communities, and that is what NOVA Academy has been doing for many years."
The PIMCO Foundation is the charitable arm of the Newport Beach-based international money management firm PIMCO. The PIMCO Foundation is committed to making communities better, stronger and healthier places to live, learn and work by investing in organizations that empower people globally to reach the long-term goal of living sustainable, rewarding and responsible lives.
For the past three years, PIMCO has worked closely with NOVA students and faculty to actively support the school's mission and provide hands-on educational and motivational guidance to NOVA students. In 2008, the company created—and has subsequently continued to teach—its invaluable "Tools for Tomorrow" financial literacy class, which educates the teens about financial planning and prepares them to live independently. In 2010, The PIMCO Foundation awarded NOVA with its "Excellence Award," which included a $25,000 donation. And in April of this year, the company spearheaded a comprehensive Volunteer Day at NOVA, sending more than 100 employees from around the world to volunteer in a wide variety of capacities that provided both immediate and long-term benefits to the students and the campus. Volunteers provided invaluable service in everything from campus beautification and clean-up to administrative work and inspiring guest lectures.
"We are profoundly grateful to PIMCO for this extraordinarily generous and important grant, which will have direct and lifelong impact on our students' educational and professional careers," said Donald Verleur, CEO of Olive Crest. "PIMCO has been an unparalleled partner to NOVA, and the company's employees at all levels have provided a tremendous example of leadership and social conscience. We're thrilled to put The PIMCO Foundation's grant to immediate good use in educating the young men and women who are the future of our country. Closing the achievement gap isn't just a good thing to do it is the only thing to do."
NOVA Academy is one of the few charter high schools in California specializing in an innovative educational model for at-risk teens. NOVA Academy's mission is to provide a rigorous curriculum aligned with the emotional intelligence skills that will ready students for university work and real life. Many NOVA students will be the first in their families to receive a high school diploma and the first in their families to go to college; many come from foster care. NOVA has received a bronze medal from U.S. News & World Report in 2010, the Orange County Hispanic Chamber of Commerce Educator of the Year Award, and PIMCO's 2010 Excellence Award, and is accredited by the Schools Commission of the Western Association of Schools and Colleges.
"Tools for Tomorrow," the financial literacy program led by PIMCO's Howard Chan, Chris Kemp, Erika Lowe, Sarah Middleton, and Matt Woods, is a life skills class that teaches students the value of smart financial habits, including banking, saving, investing, and buying insurance.
Media Contacts
Carrie Cornwall
714.543.5437, ext. 1426
Carrie-Cornwall(at)olivecrest(dot)org
Alison Hill
714.444.9731, ext. 201
Alison(at)currentpr(dot)com
About NOVA Academy
In 2005, Dr. Don and Lois Verleur, founders of Olive Crest, had a vision. That vision was to create a learning environment where students are empowered to develop self-sufficiency and a sense of pride in their academic success. NOVA Academy is the realization of this vision. NOVA Academy offers students an academically rigorous alternative to "traditional classes," based on the Early College High School Initiative supported by the Bill and Melinda Gates Foundation and the Foundation for California Community Colleges. As a charter school that works in partnership with Olive Crest and Santa Ana Unified School District, NOVA students have the opportunity to receive both high school and college credits. Drawing on Olive Crest's long history of serving children and families, NOVA Academy's goal is to help young people become successful learners—and productive members of the community—despite the roadblocks they have encountered. Through our individualized approach, students who may be at risk of falling behind academically are empowered to thrive.
NOVA is currently accepting registrations for the fall 2011 semester. For more information on the school and how to apply, please contact Doron Zinger, Olive Crest's Director of Charter Schools, at 714-569-0948 or visit http://www.nova-academy.org.
About PIMCO
PIMCO is a global investment management firm that was founded in Southern California in 1971. The firm serves an array of clients and manages retirement and other assets that reach more than 8 million people in the U.S. and millions more around the world. Our clients include state, municipal, union and private sector pension and retirement plans, educational, foundations, endowments, philanthropic and healthcare institutions, individual and investment saving accounts, public sector reserve management and other public entities in North and South America, Europe, the Middle East and Asia. PIMCO has more than 1,200 employees. In addition to its headquarters in Newport Beach, California, the firm has offices in Amsterdam, Hong Kong, London, Munich, New York City, Singapore, Sydney, Tokyo, Toronto and Zurich.
PIMCO is owned by Allianz S.E., a global insurance conglomerate.
###