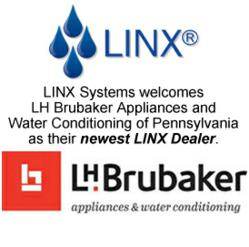 The performance to date has been far better than we ever anticipated it could be.
(PRWEB) July 07, 2011
LH Brubaker has been serving customers in Central and South Central Pennsylvania since 1932. Recently staff members at LH Brubaker were looking to expand upon LH Brubaker's Green Products Line and also wanted to include products that were cutting edge in the industry. One of LH Brubaker's Sales Representative's found out about LINX products and presented the product to management.
Mr. Tim Lawson, sales manager of LH Brubaker explains, "To test the LINX system, we had one installed in our store since November 2010. The unit supplies a Water Cooler and a faucet at our kitchen sink. The unit has produced 1,063 gallons of water during this time. We are still experiencing a 95% reduction in total dissolved solids (TDS)." Lawson continues, "The performance to date has been far better than we ever anticipated it could be."
Since installation, LH Brubaker employees have been busy educating customers on the benefits of the LINX Systems and enjoying success stories from delighted customers. One such customer was trying to close on a home that had very high nitrates at 25 parts per million (ppm). After installing a LINX unit, LH Brubaker waited three days and then sampled the treated water. Lawson explains, "The results came back with no nitrates detected and no TDS creep from the unit."
LH Brubaker employees have also found that when selling upscale refrigerators, consumers are looking for a drinking water system that can provide safe, high quality water to both the kitchen sink and the refrigerator. According to Lawson, "The LINX system has proven to be the item of choice for the Sub Zero and Electrolux brands of refrigerators. The flow rate coming from the system is that good."
According to H. Martin Jessen, Vice President of Pionetics Corporation, "We could not have asked for a more dedicated partner than LH Brubaker. They recently participated in a LINX Sales Training Session that really helped to inform and energize their people." Jessen continued, "These training sessions help the staff understand the proprietary features of the LINX systems including the Dial-A-Taste® Technology, and service schedules for the patented TDS reduction cartridges. They also helped the sales staff learn how these units can actually conserve water and save money."
Water conservation is becoming a high priority and being able to offer a home a drinking water system that conserves water compared to a traditional RO is very important to consumers. Over 70% of the feedwater delivered to a LINX System is recovered as healthy, great-tasting drinking water, compared to the 4% to 10% from traditional RO systems. To demonstrate the difference, if a home used just one gallon of water per day, a typical RO system could waste as much as 9,855 gallons of water per year. With the LINX system, that number is only 255 gallons. To see this in action, see the video here.
In addition to the environmental benefits, LINX technology operates using programmable software and display indicator lights that communicate detailed system status to the consumer and its Dial-A-Taste® Control allows the consumer to customize the taste of their drinking water for more or less mineral content.
Pionetics welcomes LH Brubaker to its list of distinguished dealers and looks forward to a long-lasting and customer-building relationship. For more information on LH Brubaker, please visit the website at http://www.lhbrubakerappliances.com.
Pionetics is currently signing new distributors and dealers. Anyone interested in becoming a distributor or dealer anywhere around the world should contact H. Martin Jessen at 480-836-0887.
About Pionetics Corporation:
Pionetics is an innovative water technology company that develops smart water treatment products that produce great tasting, safe drinking water with less wastewater than traditional water treatment systems. Pionetics is privately owned and financially backed by Kline Hawkes & Co, NGEN Partners, and Unilever Technology Ventures Fund.
Pionetics is located in San Carlos, CA. To date, Pionetics has been issued over 50 patents worldwide to protect its proprietary know-how and innovative technology.
# # #