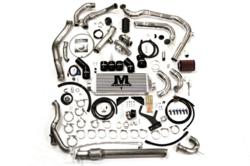 "We haven't seen quality like this in this industry, ever."

Sharif Abdelbaset, of Forged Performance
Wilmington, NC (PRWEB) July 08, 2011
The Momentum Performance Dealer Network is growing at a rapid pace, with over 120 new dealers being added in just the last 60 days. While the majority of these dealers are located in the United States, Momentum is also partnering with Dealers wanting to sell their 350Z Turbo Kit and exhaust products in countries as far away as Dubai, England, Australia and New Zealand.
"Since we released our 350Z and G35 performance products in January, the market acceptance has been tremendous and we couldn't be more excited about the future", said Bob Pochinco, Momentum's Director of Sales. "Across our product line, our quality and performance is unmatched, and our focus on engineering a top performing 350Z Turbo Kit that doesn't shorten the stock engine life is bringing in new customers who previously considered forced induction a risk."
Momentum's flagship product is the 350Z & G35 Turbo Kit, which produces over 400whp and has set new standards in performance, quality, and appearance. Furthermore, Momentum is actively engaged in the automotive performance community, and attends key events like PRI, ZDayz, and Z Nationals. Momentum also actively supports 350Z and G35 Car Clubs, and regularly attends various track events around the country.
In the end though, dealers are flocking to the Momentum brand because both the company and its products are setting new standards in the industry that are best demonstrated by Momentum's strong long-term commitment to its customers and direct dealers, and its relentless focus on building quality high performance automotive products.
Sharif Abdelbaset, of Forged Performance in Atlanta, GA (an industry leading installer of 350Z and G35 turbo kits and a Momentum Performance dealer) summed it up best by simply saying, "We haven't seen quality like this in this industry, ever."
Momentum relentlessly engineers a full line of quality performance products for the Nissan 350Z and Infinity G35 including turbo kits, headers, single and dual exhaust, control-arms, cold air intakes, intercoolers, and accessories.
For more information about Momentum Performance, their performance product line, or dealer opportunities, please contact Momentum Performance at info(at)momentumperformance(dot)com or go to http://www.momentumperformance.com.
# # #