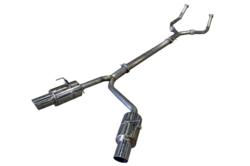 "We haven't seen quality like this in this industry, ever." – Sharif Abdelbaset, Forged Performance
(PRWEB) July 28, 2011
There's a new sound overtaking the automotive high performance industry, it's the sound of performance and it's music to the ears of automotive enthusiasts. In a recent ZDayZ Exhaust Competition, where Z enthusiasts from across the country voted on "Best Sounding" Exhaust Systems, the top two finalists were equipped with Momentum Performance exhaust components – Headers, Cat Delete (Y) Pipe and Catback Exhaust System.
The ZDayZ event was held in the crisp air of the Great Smoky Mountains of North Carolina, and drew Z Datsun/Nissan Z-car, Infiniti G35/G37, and GTR enthusiasts' from all over the country for a weekend of fun, camaraderie and driving some of the most scenic roads in the country. It was a great chance for Momentum Performance to connect with the enthusiasts who inspire them to Push Forward the industry.
Check out the Momentum Performance Exhaust in action!
Momentum Performance Exhaust Systems are manufactured out of TIG welded, CNC mandrel bent 304 stainless steel, offering not only exceptional durability and build quality, but also significant weight savings over the stock exhaust design. In terms of performance, the Momentum Performance Exhaust Systems dramatically improve air-flow, making it a solid choice for both turbocharged and naturally-aspirated engines alike.
"We haven't seen quality like this in this industry, ever." – Sharif Abdelbaset, Forged Performance
Momentum Performance is an innovative company out of Wilmington, North Carolina that is making a name for themselves and earning respect as a new top quality player in the industry, pushing forward the automotive aftermarket parts industry. Their products are designed with state of the art technology, informed craftsmanship and are tested under track conditions. Momentum Performance products advance power performance and aesthetics.
This leading-edge company is pushing the industry forward, in a revolutionary way, by delivering complete, integrated lines of high performance products that allow auto enthusiasts to progress at their own pace, based on their own performance goals. For so many auto enthusiasts their car is a work in progress. For this reason, Momentum Performance products are specially engineered to make moving forward with customizing a vehicle efficient and cost effective. The upgrade path starts out at the basic level with high performance Cold Air Intakes or an Exhaust System and moves through to higher performance products including Headers and Turbo Kits.
Progression allows the enthusiast to enjoy initial performance increases with their first purchase, and then confidently add components (that are designed to work together) in phases of progression toward their end goal. At any phase, they can pause and enjoy the reliable performance that Momentum Performance parts and components provide, or Push Forward without having to replace or discard parts already purchased, saving time and money.
Visit our website to check out the Nissan 350Z Exhaust and the Infiniti G35 Exhaust systems.
###