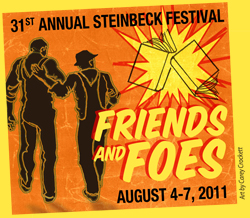 "This year's festival will expand into a wider celebration of arts and ideas, viewed through the lens of Steinbeck's work and themes."- Executive Director Colleen Bailey.
Salinas, CA (PRWEB) July 07, 2011
The National Steinbeck Center, located at One Main Street in Salinas, will host its 2011 Steinbeck Festival: Friends and Foes, to be held from August 4-7, 2011, in Salinas, on Monterey's Cannery Row and in Cities of Letters around the world. Tickets are available by phone at (831) 775-4721 or online at steinbeck.org.
Dozens of writers, speakers, artists, and performers from England to California will gather in Salinas to explore the theme of "Friends and Foes" in this West Coast literary tradition, the Steinbeck Festival. Many events and talks will feature the works of John Steinbeck, but this year will also include some surprises. As Executive Director Colleen Bailey says, "this year's festival will expand into a wider celebration of arts and ideas, viewed through the lens of Steinbeck's work and themes."
FRIENDS AND FOES IN THE WORLD, IN LITERATURE, AND IN STEINBECK
Festival talks will approach the theme of "Friends and Foes" from many angles and feature topics from literary feuds and literary friendships to many takes on one of Steinbeck's most beloved stories of friendship: his novel, Of Mice and Men. Activities include:
· Professor and artist Gavin Cologne-Brookes, who joins us all the way from England, will kick off the festival and point up the many angles of our theme with an introductory talk: "Friends, Foes, and Steinbeck: An Introduction to the 2011 Festival Themes." (Friday, August 5, from 9:15–10:00 am.)
· A talk by Katharine Rodger on the friendship of Ed (Doc) Ricketts & John Steinbeck, and the books it inspired. Rodger is a scholar who spent over a decade researching and writing about the life and work of Steinbeck's friend Ed Ricketts. Her published work on Ricketts includes a collection of Ricketts' letters, Renaissance Man of Cannery Row (2002) and a collection of Ricketts' essays and journals (2006). (Friday, August 5, from 10:15–11:00 am.)
· Writer Kirk Curnutt will explore creative ire, from Steinbeck to Gertrude Stein, and from Hemingway to Fitzgerald, in his talk titled, "East of Ad Hominem: The Fine Art of the Literary Feud." Joining us from Montgomery, Alabama, writer and professor Curnutt is the author of eleven books of fiction and criticism, including two novels, Breathing Out the Ghost (2008) and Dixie Noir (2009), as well as an "imaginary conversation," Coffee with Hemingway (2007). (Friday, August 5, from 11:15–Noon.)
· Poet David Dominguez will explore extreme friendship in Steinbeck's work. Dominguez will lead a heated discussion on Steinbeck's most enduring novel of friendship, the often-taught yet much-misunderstood short novel, Of Mice and Men. Dominguez will also read a poem he created especially for the 2011 festival. Dominguez's two books of poetry are Work Done Right and The Ghost of César Chávez. (Friday, August 5, from 12:30–1:30 pm.)
· The first graphic novel of a Steinbeck classic will be highlighted by an exhibition at Festival. In 2009, Swiss artist Pierre-Alain Bertola's graphic novel, Des souris et des hommes (based on Steinbeck's novel, Of Mice and Men) was published in French by Editions Delcourt. Bertola is an internationally-known artist whose work has ranged from stage sets in Russia to graphic novels. His work will be on exhibit at the festival and the artist will be present. (Friday, August 5, 6–8 pm.)
CREATIVE OPPOSITIONS OF ALL KINDS
The festival will also explore the many oppositions and contradictions at work in the 21st century, including the new forms of the book—sometimes suspected of being foes to the habit of reading—and other friend-foe dichotomies that face us.
· Joining us from New York, Elda Rotor, Editorial Director of Penguin Classics, will explore the potentially adversarial role of literature and technology, debut Penguin's new Of Mice and Men enhanced ebook, and predict where all this is heading. Rotor has been called a "changemaker" in the publishing world because of the way she has embraced new forms of technology and art that speak to younger readers and draw them toward the classics as works vibrant and relevant to today's concerns. (Friday, August 5 from 2:45–3:30 pm.)
· In commemoration of the first graphic novel of a Steinbeck classic, Andrew Farago, Curator of San Francisco's Cartoon Art Museum, will discuss the definition of a graphic novel and the way in which classic literature is being brought alive through this art form. Farago has overseen more than 100 exhibitions of original cartoon art, and has curated comic and animation exhibitions throughout the US, Japan, Canada, and Greece. Farago has written for Marvel Comics, The Comics Journal, Animation World Network, and is the author of The Looney Tunes Treasury. (Friday, August 5th from 3:45–4:30 pm.)
· Extreme athlete and author Terri Schneider will lead a panel of extreme athletes in a discussion of competition in extreme endeavors titled, "You Against Yourself: Extreme Sports and the Foe." The panel will comprise her teammates for the upcoming Expedition Bhutan. The panelists will discuss the challenges and joys encountered when it's you against yourself in extreme elements. (Saturday, August 6 from 5:00–5:45 pm.)
BACKGROUND
FESTIVAL SPEAKER BIOS ARE AVAILABLE AT: http://www.steinbeck.org.
Background on the Theme of the 31st Annual Steinbeck Festival:
This year's festival will highlight five of Steinbeck's novels. Of Mice and Men (1937) depicts one of American literature's most memorable, unlikely friendships. Steinbeck's "Monterey Trilogy"—Tortilla Flat (1935), Cannery Row (1945), and Sweet Thursday (1954)—features a motley band of brothers who realize the importance of human connection. The Moon Is Down (1942) offers a radical portrayal of the enemy as a human being—while challenging our beliefs about leadership and democracy.
Background on the National Steinbeck Center:
The National Steinbeck Center is located in Salinas, California, the birthplace of John Steinbeck. The National Steinbeck Center is a museum and cultural institution with a mission to engage people in the exploration of culture, issues and the arts relevant to our times. For more information about the National Steinbeck Center or past festivals, please visit the National Steinbeck Center's website at http://www.steinbeck.org. Tickets are available for purchase at http://www.steinbeck.org or at (831) 775-4721. Full festival passport price of $150/135 members includes all events Friday through Sunday with the exception of lunches and events after 7 pm.
One Main Street
Salinas, CA 93901
(831) 775-4721
http://www.steinbeck.org
Images available upon request
CONTACTS:
Colleen Bailey
Executive Director
colleen(at)steinbeck(dot)org
831-775-4724
Marci Bracco
Marketing Consultant
marcibracco(at)yahoo(dot)com
831-747-7455
HOTEL INFORMATION. Holiday Inn Express & Suites, at 195 Kern Street in Salinas, offers a special Festival rate of $89.99/night + tax for a Standard room (1 King or 2 Queen) or $109.99 + tax = $121.49 for Suite Rooms (1 King or 2 Queen): http://www.hiexpress.com/salinascal or call (831) 737-1160.
###