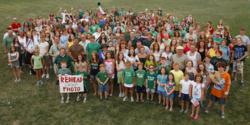 A sea of red hair will form in central Ohio this August.
Dublin, OH (PRWEB) July 08, 2011
Redhead World, a redhead social network, is sponsoring the 2011 Dublin Irish Festival to once again unite hundreds of redheads for a group photo.
A sea of red hair will form in central Ohio this August. Lots of smiling faces beneath copper, scarlet, and auburn locks will come together once again for "the Midwest's Largest Gathering of Redheads" at the 2011 Dublin Irish Festival. The redhead social network, Redhead World, is once again a proud sponsor of the festival and the redhead event.
Last year, three gatherings culminated in a group photo of 200 redheads on the final day. "This year, we hope to have even more," says Redhead World co-founder Andrew Warnock. With ticket sales of over 100,000 on the festival weekend, there's certainly no shortage of redheads. Warnock laughs, "With all the great entertainment the festival offers, it's a little hard to gather everyone together." Arts, crafts, food, and Irish music acts from all over the world compete for attention and provide endless fun.
To help boost numbers further for this year's photo shoot, there will be only one redhead group photo on Sunday, August 7 – the final day of the festival. It will be held at the Sports Area bleachers at 5pm.
Earlier that afternoon, the festival's Irish contests will also be held for those with the most freckles, greenest eyes, and reddest hair. "The fact that the Dublin Irish Festival already had a reddest hair contest was a perfect tie-in for our event." Last year, a Redhead World member from Nebraska took the top prize in the reddest hair adult category.
And this year Redhead World will be drawing members from more than just the two U.S. coasts. Site members from Belgium and the U.K. will travel to the U.S. for the event.
Warnock suggests that interested redheads who want to be alerted to the latest news about the event and redhead culture in general, click on over to http://Redhead-World.net. "You'll learn all about being a redhead, and make some new friends."
About Redhead World
Redhead World is a leading redhead social network whose goal is to unite redheads all over the world. Members can socialize through profiles, blogs, forums, groups, and even built-in audio/video conferencing and chat. The site also has the latest news of redhead issues and festivals plus video interviews with significant redheads. Please visit http://www.redhead-world.net
Contact:
Andrew Warnock, co-founder
Redhead World
+1-614-678-7339
###