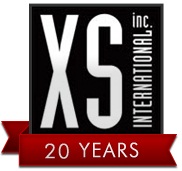 Alpharetta, GA (PRWEB) July 07, 2011
The 20-year success of leading IT Services firm XS International (XSi) was featured June 16, 2011, on Family Business Radio in Atlanta, GA. Family Business Radio provides a live radio venue to showcase family-owned businesses and the professional advisors that assist them. Family Business Radio was created to support these businesses-serving as a mouthpiece to educate and inform about this vital part of our economy.
Secrets of the Family's Success
XSi owners and founders Todd A. Bone and Rob Bone recently revealed their company's modest beginnings to the co-hosts of Family Business Radio. Twenty years ago, Todd Bone utilized his great foresight with a $4,000 investment to create XSi. It took him on a fantastic journey, as he grew his family business into a highly successful enterprise. From its inception, XSi gained fast clients with Todd providing refurbished computer systems and technological vision. After enlisting brother Rob Bone as his business partner, as well as his father, XSi thrived throughout the years—adjusting its business model and service offerings. Rob is the sales and operations arm of the company. Since XSi now outsources collateral services, Rob can utilize his strengths in sales, marketing and program management.
A Changing Roadmap for the New Horizon
XSi's initial iteration included Real-Time Simulation, High Performance Computing and Visualization environments for Federal Agencies, Contractors, Research, Universities and Entertainment Industries. In the past decade, however, XSi has shifted its focus to Datacenter solutions which extend the life of IT infrastructure while reducing costs and introducing efficiencies based on new technology.
The Bone brothers explained that the company's foundation has always been based on two principles- tenacity and a strong work ethic. They look forward to instilling these values in their children and passing along the XSi enterprise- to future generations. Todd and Rob developed a methodical staffing process in order to hire only the best-fitting team members. This is a key contributor to the continued success of XSi. Download podcast or read full story.
Todd Bone's 3 Tips for Family Businesses
1) Join an entrepreneur's organization, find a mentor or hire a board of directors. This is a learning process, so get advisors.
2) Hire slowly. Hire people who are a great fit for your organization- both in their philosophies and work ethic.
3) Measure your staff, have goals and consistently report on progress. People want to improve.
About XS International, Inc.:
XS International (XSi) is a leading IT services firm, specializing in enterprise IT Maintenance and Data Center Consolidation, Moves & IT Asset Disposition. XSi also sells new and refurbished High Performance Computers , Enterprise Servers, Storage and Networking equipment. Celebrating its 20th year in businesses, XSi is a Federal Contractor and is on contract vehicles including GSA and other IDIQ contracts (SEWP, Seaport-e, etc.), and also sells to International Commercial Concerns. For more information, please visit http://www.xsnet.com or call 1.800.256.6133.
# # #