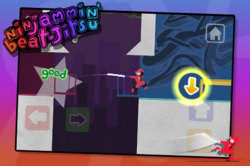 Dundee, Scotland (PRWEB UK) 8 July 2011
YoYo Games is pleased to announce the immediate availability of its FOURTEENTH unique game release on both iOS and Android operating systems, "Ninjammin Beat-Jitsu"
Created and distributed with YoYo Games "GameMaker" and written by UK resident, 18 year old Liam Barden, "Ninjammin Beat-Jitsu" defines its own genre in this fusion of Rhythm Action and Arcade Platforming.
In a dystopian future, where being happy is mandatory, a simple dude known only as 8O8 is visited by his late great, great grandfather, Roland - who bestows upon him a great power over an ancient martial art, known only as 'Beat-jitsu', but before 8O8 has a chance to understand what's going on, an elite government robot task force is set after him.
Rhythm and Timing is everything as you tap or swipe to the beats on screen to Jump, Slide, Flip and Fight your way through 6 uniquely styled Episodes.
Features:

6 Ninjammin Episodes to complete with multiple routes to find
18 Secrets to collect throughout the game
15 Challenges to unlock and defeat
Over 20 achievements earn
Unique style and design by Liam Barden
Ninja like music by Jono Oliver
Game Center Achievements and Leaderboards
OpenFeint Achievements and Leaderboards
iTunes
http://itunes.apple.com/gb/app/ninjammin-beat-jitsu/id431097952?mt=8
Android Market
https://market.android.com/details?id=com.yoyogames.droidnjbj
Graphics
http://press.yoyogames.com/ninjammin
More about YoYo Games:
YoYo Games was founded in 2007 by a group of leading Games and Entertainment industry executives including James North-Hearn, CEO Foundation9, Michel Cassius, ex European Marketing Director Xbox and Spencer Hyman, formerly COO Last.FM. The company, headed by CEO, Sandy Duncan (ex Vice President of Xbox Europe), was created to support the founders' belief that a new generation of games development talent and devices was emerging and there was an opportunity to incubate and showcase some of the very best of this talent on these new and existing platforms.
In 2007 YoYo Games acquired the rights to GameMaker from Prof Mark Overmars. Mark, who launched GameMaker in 1999 joined the YoYo Games board at that time and has since become an active member of the Executive management team.
GameMaker is available today for free from the YoYo Games wesbite (http://www.yoyogames.com) and has been downloaded more than 5 Million times since 2007. In addition GameMaker is the teaching product of choice for more than 5,000 schools and Universities worldwide. Later thi syear YoYo Games will introduce GameMaker/HTML5 which will unleash the games development talent of hundreds of thousands of gamers on the New Web.
###