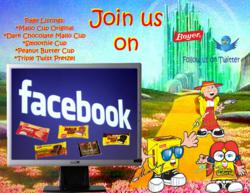 Altoona, PA (PRWEB) July 09, 2011
As technology grows and communication is such an important issue in today's social media environment, Boyer too came up with a way to connect with employees, sales teams and valued customers. They are proud to announce that each of their products have found a new "Facebook" page home and are asking that everyone join them in sharing news, events and happenings with friends, family and people all around the world.
Their goal is to try to have 1 million Boyer Candy fans by the end of the 2011 year. Please join and help make this goal a success by inviting all friends and family members to like the following pages:
*Mallo Cup Original
*Dark Chocolate Mallo Cup
*Smoothie Cup
*Peanut Butter Cup
*Triple Twist Pretzel
Keep watching each page for updates, alerts and a few surprises!
###