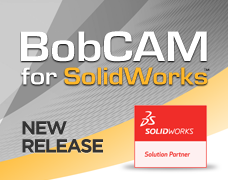 BobCAM for SolidWorks is by far the best CAM add-on I've ever used. -Tim C.
Clearwater, FL (PRWEB) July 07, 2011
Computer Aided Design & Manufacturing software BobCAD-CAM, Inc has released their latest CAM machining software add-in for SolidWorks design software users. The new BobCAM V2 CAM add-in continues to streamline the design and manufacturing process by keeping everything integrated into one software product.
SolidWorks users who machine parts can now take advantage of new CNC Lathe features for programming their lathe toolpath and creating the G-Code program right within SolidWorks. Being that the new Lathe module has been added, this allows the user to select solid models as their geometry without the need for wireframe profiles for roughing. This works just like the BobCAM Mill module. For example, if the operator is using a lathe groove feature, the system will detect the grooves in the part automatically and if they are using an internal roughing feature, the system will detect the internal areas, etc. Thus, making the selection process simple in the creation of toolpath.
Another major addition is that virtual simulation has been added to the system internally. Therefore, it is no longer necessary to launch an external simulation process as everything is now fully integrated. The new release also addresses milling by adding the ability to create multiple setups. This means the operator can now work on all sides of the part within one single part file. In addition to this, the ability to modify and customize start points for profile milling has been added.
For more information on the new BobCAM for SolidWorks V2 CAM add-In contact BobCAD-CAM directly at 866-408-3226 or 727-683-2101 or visit http://www.bobcad.com.
###